Urban Jungle Review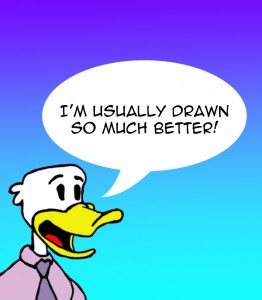 If you've read the DCC Day 2 article or listened to the podcast, you know that I bought Urban Jungle: Welcome to the Jungle collection while we were standing their recording our interview.
It collects the first 200 strips of the series in a convenient volume for those who want to quick reference one of the early strips! I had a few reasons why I bought this:
1. I support the local talent, especially when it comes to webcomics. I've been there and it's not nearly the piece of cake some people think it is. This goes especially for those who have day jobs and still manage to crank out anywhere from one to seven strips a week.
2. I've heard of this strip and never have read it. Back when I was reading webcomics more heavily I read PvP, Tiki Coladas, Hero by Night, In His Likeness, Looking for Group, the Gutters, the Abominable Charles Christopher and a ton of others I know I'm forgetting right now. I've also read through the archives of all these comics to see where they came from and how they've developed over the years.
3. Not only was I a fan of Looney Tunes and Tom & Jerry, but of the comic strip; Garfield! When they put out the Garfield and Friends cartoon, it introduced me to the US Acres characters. In short, anthropomorphic characters are a bonus with me!
I started reading this volume on Monday. When opening the front cover, I still got a smile at the quick sketch of Phil Duck that David Wilborn drew to say thanks! What I got out of this was that the main character is named Zack. In this volume, he's a programmer with not much of a life. In his home life he has a dog; Gus, who usually chides him about what he's doing wrong with his life. At work, he's the only human among the different staff of animals. He was raised by wolves (literally!) Out of the group, I definitely like Phil Duck. I can tell that Phil is one of Mr. Wilborn's favorites too. He's a duck that has zero sports knowledge. He can't figure out why anyone else would want to either. In a sense, Phil is the same sort of smart-alec influence he gets at home from Gus. The difference is that Gus has the distinction of being a pet. It plays in this pseudo-Disney aspect in the respect that Goofy is a dog who can talk and do all this neat stuff. Then we have Pluto, who is a dog too, but he can't do any of the same things. The difference here is that Gus often tricks Zack out of using his computer or gives him a hard time about either being a computer nerd or something he's watching/doing at the time.
This book is a bit rough, but you can tell that this is a place where Mr. Wilborn is getting his footing. It's had 3 years now, and I'm hoping for lasting success to Mr. Wilborn on it. These days, newspaper strips have lost a lot of their luster. Some remain funny, but even Garfield isn't nearly the laugh he once was. The last really innovative idea I saw with the comic was when Jim Davis decided to take the physical presence of Garfield out and have Jon talking to the off-camera/voiceless cat. With Urban Jungle, it plays to the modern demographic who understand these things. If it's not for everyone then, at least in this first book, it's for those that know or are programmers. The dialogue between Zack and tech support seems so exaggerated, but I can also believe that this could have played itself out exactly like that. If nothing else, I would believe that the real conversation sounded normal, but boiled down to what was placed in the pages.
I'll be reading the comic regularly now, in between books that I'm currently getting through for review purposes. Will I pick up another volume? Absolutely! While reading the webcomic is free and archives are always there, this is a way to support the name and the product. You can find his volumes on Amazon.com just type in Urban Jungle by David Wilborn, or do as I did and go talk to him at a convention. I know his next one will be in August for STRIP: the Webcomics convention in the DFW area. There is a link to it on his site!
http://www.urbanjunglecomic.com/
To show a little support, the graphic I've provided was a small piece of inked fan art I've done.   It never can make the scanned stuff look as good as I like!   Oh well, I'll try again soon!