Stan Lees presents: Dallas Comic Con – Day 2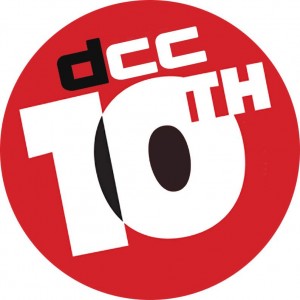 I arrived the second day expecting that there wouldn't be much of a crowd left.
In comparison to day one, there weren't nearly as many. However, that didn't mean there weren't a ton of people! There is talk that the event hosted 20,000 people this year. If correct (on their end and mine), that's double what they boasted for last years DCC. It's amazing to see how big this has become since they've moved convention halls. People were lined up from the door, all the way up this rather large set of stairs leading to the third floor of the convention center, lined up at the top, weaved back down, and around the side nearly to the very back of the building. Like I said, there were still a lot of people.
I was standing in line with Carl, when we were picked out for being media and told to go straight in. I recognized the man that told us, though I never got his name. He usually wears a hat with a Klingon pin at the front, that's if he doesn't dress as a Klingon proper. I appreciate that, sir! When we got in, the first thing that we did was hit the line for Kevin Conroy. I wasn't going to miss that for anything. As I've mentioned, the artwork that I do has been specifically worked out for signature purposes. To see Mr. Conroy again was a great moment in my life. This is MY Batman. As much as I grew up catching the reruns of Adam West's Batman and as fond as I was of the Michael Keaton Batman films (and really still am); Batman: the Animated Series gave me something to latch onto. Meeting this man for the second time felt just like it did the first. I was humbled and so appreciative about his reaction to my artwork. I showed him the first piece and he nodded and smiled, giving a hint that he may have remembered it. If not, then at least he gave me something to smile about. That's the true mark of greatness to me. It's not about receiving a grand amount of money, but about the fans themselves. That's no slight to the ones that I paid. I would have done it again in a heartbeat, because the paying autographs at least gave me the chance to meet these great people at least once in my life. I will always have these memories, and that's what this con was for me.
Carl and I talked with Greg Holman, of Heritage Auction House, as he did the interview twice (due to some technical difficulties on our part). He was all smiles and full of info for us and our listeners. His enthusiasm about the con and his bringing awareness to what sort of treasures that we fans possess gave me pause to reflect why I became a lover of comics, the artwork, the stories, and the people behind them. It was also so awesome for us to talk with David Wilborn from Urban Jungle! As I purchased to the book from him, he started working on a sketch of his character Phil (he's a duck!) telling me thank you! Even meeting Scott Kurtz of PVP, and buying PVP books from him personally, I never got that sort of treatment. Again, nothing against Scott Kurtz. I still love PVP to this day, and respect the fact that he's the reason I got into wanting to do webcomics in the first place. It's guys like David Wilborn that keep proving to me that there's something to come back to. I'll be reviewing Collection #1 soon for our site. Early review says I'll be going deeper into the series as I get some good chuckles out of it. This volume shows the start up jitters that I know so well! It's a learning curve, and one that I'm glad to see that he's overcome to create something that I hope lasts a lifetime!
Before we talked with David Wilborn, we got the chance to speak with Mark R. Largent; creator of Stalled Trek: Amutt Time! Another piece in need of review, which I'm only too happy to do. I laughed through this 15 minute parody of a great Star Trek episode. When the Star Trek: the Next Generation parody is released, I'll be adding that to the collection. This is another quick review synopsis: I think with more time, and further Kickstartr help, there could be some further laughs ahead of us! He signed my copy of the DVD and a poster of the DVD cover, which I was only to happy to take!
After that we managed to get upstairs and sat through three different Q&A panels. The first was for Adam West & Burt Ward! I have to say, after day one I was feeling bad for Mr. Ward. It seemed like there was no one going up to his table, now I regret that I wasn't one of those people. Why? Because the man lives a very good life and has done some incredible things. First and foremost, I learned that he and Bruce Lee lived in the same condominium complex. Nothing important there, you say? Well, how about the fact that they were sparring partners? That's some gold! A martial arts legend like Bruce Lee and Burt Ward together in more than just an on-screen appearance. If you're not sure where that would've happened. Check the crossover that happened between Batman and the Green Hornet. Kato and Robin had their opportunity then, but this was so much better info that that. The other part that severely impressed me was the dog rescue he runs. I had no idea that he was doing any of that! I know it now and to that end I'm posting a link to it here.
http://gentlegiantsrescue.com/
If you have the means to do it, then please give to this cause. As I can personally tell ya, big dogs need love too.
Adam West was full of laughs and a great amount of fun. I think my favorite bit with him was when someone brought up the "Adam West for President" poster that was toted around by one fan. He simply said that such things weren't in the cards for him because he was having too much fun being the Mayor of Quahog (Family Guy reference for those two people out there that might not know.) What was great about seeing he and Mr. Ward together was that they fell into old routines. There were laughs and little private bars where the two of them started breaking up into laughter. Yeah, I was there for that! Batman and Robin together tackling some good, and some expected, questions. When Mr. West was asked if he kept in contact with his former castmates, he started looking around the room and saying he saw Frank Gorshin (the Riddler), Burgess Meredith (the Penguin), and Caeser Romero (the Joker) now! The way he presented it was funny, but it also was a slightly sad reminder that these people are getting older and some have passed on. Though I never met Mr. Gorshin, I got the full details from his appearance here in Dallas during Bat-Con a decade earlier. It's my fondest wish that both Mr. West and Mr. Ward will show up again for one of the future conventions and that they're around for many more years to come.
The second Q&A was with James Marsters. Having never been a fan of Buffy: the Vampire Slayer or Angel, this wasn't one I was looking forward to in particular. However, the laughs I got out of this session were some of the best. The man is a consummate charmer, and actually a really friendly guy. I managed to run into him briefly before the end of the con. When Carl and I were taking pictures of the costumes, I had made mention some of the great ones I had seen. He passed me by and said that he agreed, there were some great costumes this go around. It wasn't much of a meeting, but it was enough to call it a score on my part. Summer Glau AND James Marsters in the same weekend, the Whedon family of actors were some of the nicest I've ever met. Kudos to you both for that!
Back to the Q&A; Mr. Marsters made the blanket statement that anything could be asked of him and he wouldn't get embarrassed. Well, many people gave it a go. Matter of fact, they managed to make him uncomfortable a few times, but true to form he was never without an answer for these people. I can't call all of it because of my unfamiliarity with the Buffy/Angel material. However, the little girl that asked who would win in a fight; caveman or astronaut, was hilarious and given to a rather thoughtful answer. I give him credit for that, especially since it was a little kid. Carl and I were seated close enough to the microphone that I was able to see her standing in line fidgeting a bit. Her dad was standing with her, trying to calm her through her nerves. So when she got to the mic and she was being held up so she could speak, it gave me that moment of generational fandom. It was so awesome that Marsters didn't blow it off.
Speaking of generational fandom, seeing the last panel with David "Darth Vader" Prowse, Peter "Chewbacca" Mayhew, and Jeremy "Boba Fett" Bulloch was one of the best moments of my life. These three actors together to talk about their experiences and how the feel about it all so many years after the fact. As I said with Adam West and Burt Ward, I am hoping to have these fine soft-spoken gentlemen come back to another convention in future. I know with Mr. Mayhew, he does come often to the Dallas conventions. He's a great man, with a lot of heart. It feels like such a privilege to see these men together and speaking back with a certain fondness for the time they spent working on these films. In case anyone's curious, their favorite film to work on was Empire Strikes Back! Hard to believe, right? (yeah, right…) Mr. Prowse talking about his time with Christopher Reeve was heartbreaking in some aspects. He had been asked to train the young Mr. Reeve in six weeks for his role in Superman: the Movie. He said he trained him well, gave him all his time and attention, but in the end had to leave a week to go do another job that was pressing. When he got back, Mr. Reeve had lost weight and some muscle mass, which caused Prowse to be fired. He kept repeating that the two were like brothers, and then this happened. I was saddened to hear it. I understand that such things happen on occasion, but you never think you'll hear it about one of your favorite people. It's just another mark of understanding that while we put them up on pedestals, these greats are still human. Somehow, that makes them greater though. Sad though it is to see the shine a little tarnished, it's these things that make for better people in the end.
All said and done, we've got audio from these panels ahead. There is so much to tell. For video to it go to: www.bigfanboy.com
When Carl and I got out of the last panel, we had the treat to talk to Brent Peeples about his artwork for Last of the Greats and other projects he is working on. Being an artist myself, and my love of pencils in particular, this was some damn fine pencil work. The man has a lot of talent at his disposal. The colored works that he displayed on the banner behind his table showed a sensualism to the female comic characters, which was full of awesome detail. As I looked over his table and talked with him about what he recommended to the aspiring artists out there, I could taste in my mouth the want to pick up the pencil and put forth some of my own work. It's one thing to do convention pieces, but it's a completely different experience to produce sequential art. For that matter, it's difficult to produce good sequential art. Some people get so bogged down that it reflects in their art after awhile. I can point fingers at a few artists that had that problem, but it's my greatest hope that Mr. Peeples will have a long and successful career in this field. He's definitely proven his chops where I can see it.
We managed one more interview with the Rebel Legion! It's a brother to the 501st Legion, but for those with a Rebel bent to their love of Star Wars. I cannot express the admiration I have for these people who put on their uniforms and do charity work. If you ever get the opportunity, watch the Star Warriors Documentary. I got it with the Complete Saga Blu-Ray set that Mr. Lucas released last year. There is a true sense of community within this group. They aren't just another cosplay group, they friends who go and have fun at cons and do good works. Fandom giving back, I can't think of a better way to show off how cool this can be than to do that!
After finishing up the day taking photos and a little shopping on my end, we left tired and pleased by our experience.
My final thoughts on Dallas Comic Con 10: They out-did themselves this time! There are bugs to work out, but that's always going to be the case as these things grow. The volunteers weren't always as well informed on things as they could've been, but at the end of the day I got where I needed to be. They were well meaning and helpful as they could be, and I had a ton of fun as I moved from one line to another. It was great to see the sense of camaraderie among the fans, meet new people, and see some welcomed familiar faces! I want to personally give a shout out to Joe and Crane! It's always a pleasure to see you two! To Thomas and Les over at the Fellowship of the Geeks (Go Fellowship!), it's always great to see Geekdom Nation out in force! And to Keith, thanks for the interview! I saw your Constantine costume on Sunday! Great job, man!
To Ben Stevens, Mark Walters, Kathy Goolsby and the Klingon in the hat (I really got to learn your name!), thanks for a great con! Can't wait to see what you do to improve it and hope it reaches higher heights! You've made this one something extra special!
I also want to thank my cohosts; Carl and Matt for this. These conventions always mean a lot to me, and they gave me the chance to be a part of it in a completely new way. It's also been an awesome privilege to have been a part of this podcast since episode 2! I've had so much fun doing this, the reviews, and the articles. Here's to many more! To my friend Troy who got me to go these cons in the first place, he got me started in getting my artwork signed a decade earlier and I've kept the tradition alive. And to my Mom, who usually attends with me. You weren't there long, but it's always been fun when you have. I also want to thank you for the encouragement over the years. It does a fanboy good to know that I haven't gone so far off the rails that you couldn't understand where I was going.
I'm already looking forward to October!