Star Wars Episodes II and III 3D Postponed for Episode VII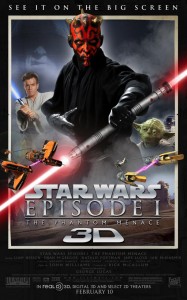 It might not seem like a big deal for some people, but for those looking to see the rest of the prequels in 3D on the big screen, it looks like that will have to wait.
Lucasfilm has decided to postpone this fall's scheduled release of Star Wars Episodes II and III in 3D. Given the recent development that we are moving forward with a new Star Wars trilogy, we will now focus 100 percent of our efforts on Star Wars: Episode VII in order to ensure the best possible experience for our fans. We will post further information about our 3D release plans at a later date.
 
Hopefully we can all wait for 2015, when the newest installment has been projected to come out.   Some rumors through
the Hollywood Reporter
say that Abrams hasn't committed to that date yet.   No names were given to these sources, so no one can say credibly that this is a foreseeable problem.  Only time will tell on how this will all develop.