7 Days of 007 – Day 1: Ian Fleming, Novels, and Early Casting
Tomorrow is International Bond Day, marking the 50th anniversary of the theatrical release of Dr. No, the first James Bond film.  We here at SciFiFX felt it only necessary to celebrate with a week-long retrospective on how Bond came to be, and how he got to where he is now.
Ian Fleming and His Novels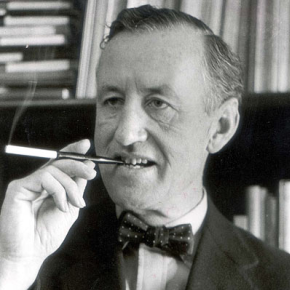 The logical starting point of any such journey is, quite naturally, the beginning.  For James Bond, that means looking in on his creator, Ian Fleming.  Fleming came from a wealthy family connected with the merchant bank Robert Fleming &Co.  His father was a member of Parliament from 1910 until his death on the Western Front in 1917.  Fleming himself was well-educated, but the beginnings of Bond connect back to Fleming's service in British Naval Intelligence during WWII, where he was involved in the planning stages of Operation Mincemeat and Operation GoldenEye, as well as oversight for intelligence units and assault units.  His wartime service, combined with his career as a journalist, provided the backbone for the original James Bond novels.
Post-war, his newspaper contract allowed him to take three months winter vacation every year to Jamaica.  He took advantage of this time at his Goldeneye estate to have some noted marital affairs.  I know… I was shocked too. When it came time for Fleming to tie the knot, he decided to use that time to distract himself from the wedding planning by fulfilling a dream of writing a spy novel, which he did in two months.  A former girlfriend advised him not to publish it, or to use a pen name if he did.  He called it his "dreadful oafish opus."  We call it Casino Royale, the first of the James Bond novels, published in 1953.
In the novel, James Bond is known by his infamous code number, 007.  He's an officer in the Secret Intelligence Service, which we know today as MI6, and holds the rank of commander in the Royal Naval Reserve.  According to Fleming, James Bond would be the most boring person in the world.  Even the character's name is borrowed from American ornithologist James Bond.  Fleming, a birdwatcher himself, owned a copy of Bond's field guide, and the name struck him as Anglo-Saxon and unromantic, yet masculine enough to fit the character.  According to a 1962 interview in The New Yorker, Fleming explained, "When I wrote the first one in 1953, I wanted Bond to be an extremely dull, uninteresting man to whom things happened; I wanted him to be a blunt instrument … when I was casting around for a name for my protagonist I thought by God, (James Bond) is the dullest name I ever heard."
The first rule of writing is to write what you know, and Fleming modeled aspects of the Bond character on many people he had met during his time at Naval Intelligence.  The novels played up the aftereffects of WWII, comradeship and allies, the "traitor within," good versus evil, and U.K. relations with the U.S. reflecting the central role of defense in the West.  Ultimately, Bond himself ended up with many of Flemings own character traits, such as the same golf handicap, his taste for scrambled eggs, his love of gambling, and use of the same brand of toiletries.  Add in Fleming's heavy smoking and heavy drinking, the character of 007 materializes in familiar form.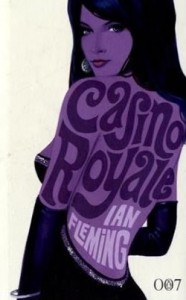 Following the publication of Casino Royale, Fleming used his Jamaican holiday to write more Bond novels, the total count being twelve novels and two short story collections between 1953 and 1966.  Bond's enemy organizations and missions were derived from Fleming's personal experience, and many of the prominent villains were named for people whom Fleming knew from childhood bullies to close friends to relatives.
The first five books received favorable reviews.  Then one critic came forward, stating Flemings work contained "a strongly marked streak of voyeurism and sado-masochism" and that the books showed "the total lack of any ethical frame of reference."  A month later, the sixth novel, Dr. No, was published, and the reviewers swarmed on him en masse, one review stating it was "the nastiest book I have ever read."  Fleming went through a state of decline between bad reviews and marital problems at that point, and began working on television scripts that would become the basis of the 007 short stories.  Fleming's mindset of the time can be easily read in the thoughts of Bond In these stories.
So what changed?  In 1961, President John F. Kennedy proclaimed From Russia With Love to be one of his ten favorite books, causing sales in the Bond novels to spike.  He sold a six-month option on the film rights in June 1961, and after extensive search, Sean Connery was signed for a five-film deal.  Connery's portrayal would affect how Fleming would write him for the later novels, adding in a sense of humor and Scottish antecedents not previously in the backstory.
Fleming's smoking and drinking finally caught up to him, however.  He suffered a heart attack in 1961, then a second one on August 11, 1964, passing away the next day, on his son Caspar's twelfth birthday.  His final words were an apology to the ambulance drivers, saying, "I am sorry to trouble you chaps. I don't know how you get along so fast with the traffic on the roads these days."
Early Casting
Part of the fun of looking back on how things develop is to see what might have been.  Today, it's hard to imagine anyone else having the role before Sean Connery.  But I've already mentioned that there was an extensive search, and Fleming himself offered up some contenders.  But first things first; let's talk about who the first on-screen Bond really was.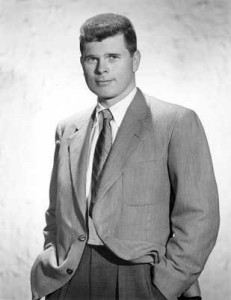 Based on the first novel, Casino Royale, a 1954 television episode of Climax! featured American actor Barry Nelson as "Jimmy Bond."  If you weren't already aware of this bit of trivia, then you're probably a bit stunned by this revelation.  After all, any fool can tell you that 007 is British, right?  It just goes to show you how far back Hollywood's been screwing up the basics.
To cleanse your brain of that abomination, let's dive into what might have been.  When the first movie was finally announced featuring an original script by Ian Fleming – then called James Bond, Secret Agent – Alfred Hitchcock and Richard Burton declined roles as director and 007, respectively.  Financing fell through, and the script became the basis for the novel Thunderball.
Numerous studios turned down the notion of a Bond film, siting the idea as "too British" or "too blantantly sexual."  In July 1961, a deal was reached with United Artists, EON Productions was set up, and the hunt was on for the man who would be 007.  A contest was set up, the winner of which was 28-year-old Peter Anthony, a model with a "Gregory Peck quality" who proved unable to cope with the role.  Fleming suggested his cousin, actor and former secret agent Christopher Lee – yeah, that Christopher Lee (as if there were others) – citing that he was one of the many people upon whom the character was created.  Lee, as it turns out, was excited by the idea and wanted the role, but the producers thought he'd be better in the villainous part of Dr. No.  Both Lee and Max von Sydow were suggested for that role, but the part eventually went to Joseph Wiseman.  Meanwhile, casting for Bond continued.  Amongst the castings rejected alongside Christopher Lee were Richard Johnson, James Mason, Rex Harrison, David Niven, Trevor Howard, and Cary Grant.  Grant was actually the first choice, but would only sign for one film instead of two, much less the hoped-for five.  Ultimately, as we all know, the role was awarded to Sean Connery, and history was made.
Tune in tomorrow for the actual 50th anniversary of Dr. No as we talk about 007: the Connery years.