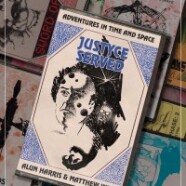 Oct

26
Tags
Related Posts
Share This
Justyce Served – A Small Start with a Big Finish
Miwk Publishing have announced a new book that explores the history of the Audio Visuals – Adventures in Time & Space.  A fan produced series of Doctor Who audio adventures starring Nicholas (voice of the Daleks) Briggs as the Doctor, that ran between 1984 and 1991.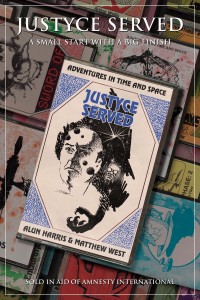 From Miwk site:
In 1984 a group of Doctor Who fans began a project which would continue for another decade and eventually lead to much greater things.

Audio Visuals: Audio Adventures in Time & Space were a non-profit, fan endeavour creating full-cast audio Doctor Who drama. 27 plays later the majority of the creative team would go on to be involved with Big Finish, an officially licensed range of Doctor Who audio dramas.

For many fans Audio Visuals  seem almost canon. Nicholas Briggs was our Doctor. We remember the Daleks' destruction of Gallifrey before it even happened on TV. We supported our Doctor through drug addiction, companion-loss and the horror of Justyce.

This book is a guide to those days. .

With contributions from Nicholas Briggs, Gary Russell, Nigel Fairs, John Ainsworth, John Wadmore, Alistair Lock, Patricia Merrick, Richard Marson, Nigel Peever, Jim Mortimore, Andy Lane, Chris M Corney and no doubt many others between now and September, all wrapped up in a new cover by Tim Keable.

Celebrate Doctor Who fan creativity at its very best.
Justyce Served is written by Alun Harris and Mathew West.  It is slated to be released in September 2012.  Profits from the book will be donated to Amnesty International UK.  It is available for preorder from the Miwk site.
I for one loved the Audio Visual plays and am a huge fan of Big Finish. I'm looking forward to adding this to my Doctor Who collection.
Follow Us on Twitter @SciFiFX
Like us on Facebook: www.facebook.com/scififx