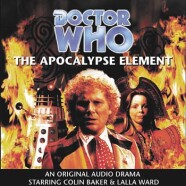 Nov

17
Tags
Related Posts
Share This
Review – Big Finish Doctor Who #11: "The Apocalypse Element"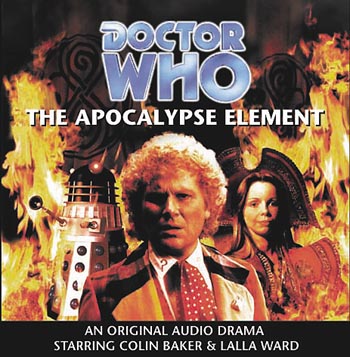 This is the next in line of my Big Finish Productions Doctor Who retro-reviews.
#11 – "The Apocalypse Element" (Dalek Empire Part Two)
From Big Finish's site:
When the planet Archetryx is threatened by a Dalek assault squad, the Doctor and Evelyn become embroiled in an ever-deepening mystery. What has become of President Romana, missing for twenty years? What lurks in the vast gravity wells of Archetryx? What is the secret of the ancient element the Daleks are synthesising – and how does Gallifrey feature in the plans?
The Doctor finds that if his oldest enemies cannot conquer the universe they will watch it go up in flames…
'We may never get to see, read, or hear how the Time War between the Daleks and the Time Lords ultimately played out, but this is about as close as we'll ever get.' John Clark's Blogspot
Written By: Stephen Cole
Directed By: Nicholas Briggs
Cast
Colin Baker (The Doctor); Maggie Stables (Evelyn Smythe); Lalla Ward (Romana); Karen Henson (Moitor Trinkett); James Campbell (Assistant Monitor Ensac); Andrea Newland (Commander Vorna); Anthony Keetch (Coordinator Vansell); Toby Longworth (Monan Host); Michael Wade (The President); Alistair Lock (Dalek Voices); Nicholas Briggs (Dalek Voices); Andrew Fettes (Vrint / Captain Raldeth); Neil Corry (Alien Delegate)
***minor spoilers ahead***
"If Gallifrey falls, then imagine what the Daleks will set their sights on next."
Once again, Big Finish demonstrates why Daleks are the most feared nemesis in the whole of the multiverse.  I say this as a loyal Star Wars fan.  This story is the definition of epic… and it's only Part Two of their original Dalek Empire trilogy, which leads into even bigger things.
In the midst of all of this, Big Finish welcomes back Lalla Ward, who reprises her role as Romanadvoratrelundar, Romana to her friends.  As the story opens, we learn that she's been a slave of the Daleks for the past 20 years, captured mere weeks after ascending to the Presidency.  This puts her in a unique position to be of service as the Daleks intercept a peace conference of time-faring races.  They put a stolen planet on a collision course the planet Archetryx and send attack fleets to many of the delegates' homeworlds as the opening gambit in a plan to take Gallifrey itself, but even that isn't the whole of their plan.
When the current TV series opened in 2005, the 9th Doctor (Christopher Eccleston) was presumably the lone survivor of the Time War between the Daleks and Gallifrey.  As fans, we've certainly been given hints as to how that unfolded, but we may never get to see it.  But with "The Apocalypse Element," I think it's safe to say this story is the opening salvo to what leads up to that fateful event.  As I said, it's epic.
For another feather in the Big Finish cap, they successfully prove that not every story they tell has to be dialogue driven through the voice actors, although they do a supurb job here.  This is, by its very nature, an action story, and the listener is invited to utilize the full resources of his or her imagination.  I mentioned before the soundscape is as important in Doctor Who as it is in Star Wars or Star Trek, and this kind of story shows why it has to be that way.  Without it, the story would very likely fall apart.  Thankfully Big Finish is pretty much the best at what they do, true masters of their craft.
If you haven't yet listened to any Big Finish story, I would invite you to spend the few bucks on the download and try this one on for size, especially if you're a Doctor Who fan.  I dare you not to be impressed.