Tags
Related Posts
Share This
Sci-Fi Expo Day 1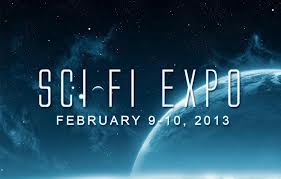 Day 1 of the Sci-Fi Expo at the Irving Convention Center has passed us, and what a day it was!
Unlike the other cons that we've attended in the past year, we didn't get much recorded, but that's not to say I wasn't mentally taking notes of everything going on. One of the big things I noticed was that there were far more people than I remember seeing at a February convention. It also made for a lot for me, Matt, and my wingman throughout the day; Joe.
What I did today was a great deal of people watching. Several times I was treated to seeing fans being fans. Something that people outside our community never understand fully. A camaraderie that in most walks of life just doesn't happen. The best examples I can give is people talking about their experiences in the autograph lines. I've seen such things in other cons were people have made good friends just standing there bonding over their love of a certain actor or actress. I saw a little bit of that bonding while I was standing in line for Sam Witwer's autograph.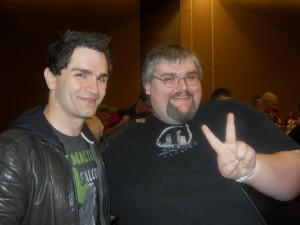 In case you aren't aware of Sam Witwer, the man has quite the resume these days. He played the human side of Doomsday in Smallville, he was Galen "Starkiller" Marek and Emperor Palpatine in Star Wars: the Force Unleashed, and continued with Star Wars when he took the rolls of the Son in the Mortis Trilogy and eventually that of Darth Maul in Star Wars: the Clone Wars. He also currently stars in the Syfy version of Being Human. A guy like this has got quite career ahead of him (not to mention the one he's already had that I haven't mentioned!), which can turn some people into rather snobbish individuals. Mr. Witwer was anything but! This man was the fan's fan. I was beyond humbled when I presented 3 pieces to the man to be signed and he was doting over my work. He's only a few years older than I am, but I was knocked out by the amount of attention he gave each person. That's class!
I also have to give a lot of accolades to Kevin Sorbo, of Hercules and Andromeda reknown, for his kind words and just being an all around great guy! We didn't talk a lot about his career as you might expect. I did talk to him about the time he almost backed into me, completely by accident, and we got to meet all of about 10 seconds then. We got a good laugh out of that, and I thanked him for his time and kind words before I departed. I didn't get to talk to too many of the other celebs. Mostly I saw them for a distance, and could see each one having a good time talking to their fans. Joe told me about his meeting with the legendary comic artist, George Perez. Much like myself, Joe appreciates great comic art, and Perez is bar none one of the best. He got a quick sketch done by the master. It was Batman, and a very nice small piece, but well worth his time. Tomorrow, I'm planning on trying to make my way there and shake the man's hand. He was one of the comic inspirations that kept in art for so long.
Joe also mentioned Avery Brooks. Mr. Brooks played Captain Benjamin Sisko on Star Trek: Deep Space Nine. I asked Joe, in jest, if his experience was anything like what William Shatner had with him during the documentary; the Captains. He said he wasn't as intense as then, but there was a certain amount of that there. I did notice in the upstairs autograph area, where they also hold the Q&A panels, there was a piano set up. It added a bit of a smile to my face to think of Mr. Brooks talking to his fans while playing the piano. I truly wish I had been fast enough to get an art piece done for him to autograph. I sincerely hope he will make a return trip to the area at a future con.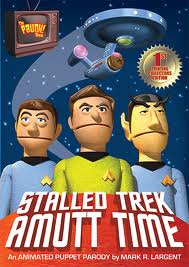 I got to run into Mark R. Largent, of Stalled Trek: Amutt Time fame. He was peddling the excellent parody of the classic episode, and was talking to us about a project that's not too far in the offing. If you enjoyed the last DVD please stay tuned to find out what he's got in store for us. He's a great guy and there a talent there that should be cultivated. For those of us here in the D/FW area, I believe we should support the local talent. For those outside of it, support us anyway, we've got a lot of great things going on, just need the extra push!
As to the costumes, well there were plenty to be had. As always, the Taffeta Darling was superbly outfitted with a group in Blade Runner fashion. There was also a wonderfully done Queen Amidala, Crimson Guard, Wookiees, and more than a few Doctors running around. There was also a Wampa this time. This was the first time I'd ever seen one of these costumes here, and it was impressive! To wrap up the fun of the day with the cosplayers, I asked the person in the Chewbacca outfit for a hug. Sure enough, the big guy obliged, must to the eye rolls of many people and the laughing delight of many others. I let the fun and insane part of my personality just come out and have a blast with people, and I can't wait to do it again!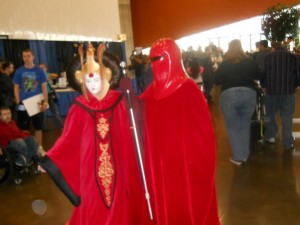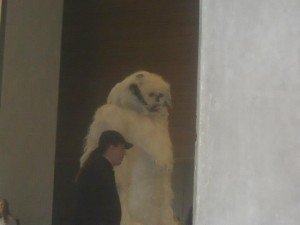 That's it for now! Stay tuned for Day 2! Until then, thank you to Mark Walters and Ben Stevens for another great show! Joe George for hanging out and having fun! A shout out to Thomas and Les, from the Fellowship of the Geeks (Go Fellowship!). And a big shout out to James from A Galaxy Called Dallas! It's always good to catch up with you guys in such a big concentration of our community!
Hope to see you people out at the con tomorrow!