Sci-Fi Expo Day 2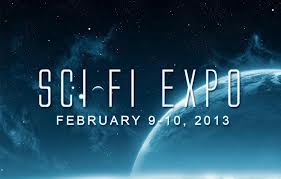 After two days at a con, I'm exhausted! I had every intention of getting this out as soon as I got home from Sci-Fi Expo, but I found myself completely wiped out after all the excitement that I was too out of it to put together coherent thoughts!
Day 2 had me heading directly to the Q&A room for a good portion of the day. I was very interested to see Avery Brooks (Star Trek: Deep Space Nine, Spencer for Hire) panel, to see how close it would be to the interview that William Shatner got when he appeared on the Captains documentary. Mr. Brooks kept his philosophical demeanor about him. When asked questions, he would go into long answers to fully explain himself, but I found it fairly informative. From the way he spoke, I could tell that his mind was always at work. He's constantly thinking, and he'll tell you directly what those thoughts are. If you don't get what he's saying at first, which he'll ask "do you see" quite a bit, you sit around wondering what it meant. Some people might dismiss it out of hand as high-brow nonsense. What I saw was a true class act that acknowledged his fans as being the reason he was there, and gave three people (one young lady and two young boys) the chance to step up on stage and talk with him, if only for a moment. For the show I was expecting, it wasn't just entertaining, it made me smile about just how much this man cares about the fans he was there to speak to.
The 2nd Q&A of the day had Cindy Morgan and Bruce Boxleitner (IMDb) of Tron fame (in Mr. Boxleitner's case he is also well known for being Scarecrow in Scarecrow and Mrs. King, not to mention Capt. Sheridan in the acclaimed sci-fi series Babylon 5). These two have the married couple routine down to a fine science. Mr. Boxleitner was having fun with his IPhone (presumably tweeting and taking photos) while Cindy Morgan explained a lot of her career and how it got her to being where she was by the time of Tron. We were also regaled on how she got to sit back and enjoy the shenanigans of her co-star and fellow guest, Kevin Sorbo, go through Hercules vs. Tron rhetoric. The two of them kept the crowd well entertained throughout their panel. Most questions were about Tron and what Mr. Boxleitner thought the next move would be. He told people what he could about these answers, but his standard answer was stay tuned and see. There was also a lot of fans wanting to see Yori (Cindy Morgan's Tron character for those who might not know) return for the 3rd installment, not to mention a clamoring for the return of David Warner (who played Ed Dillinger/Sark in the original film.)
The final panel I attended was with Sam Witwer. I was especially excited about this one, because of having met the man the day before. He mentioned how he got his big break in a film (the Mist, directed by Frank Darabont), in the most clandestine way. He happened to see a lady drop her bags in the middle of the street, and decided to help her. He ran out, helped grab her bags and helped her back to her apartment. She noticed he had head shots of himself, because he was trying to get work, and she decided to hand him a script to read. She gave him 3 scenes of various emotional states. He read them, and she was so impressed that she put in a call to Darabont. Apparently she was one of the biggest casting directors in Hollywood and he just had an impromtu audition for his part in the Mist. He also talked a lot about Star Wars, which was something I was looking forward to. He talked about how cool it was to do the Force Unleashed, and then the call he got asking if he wanted to be in Clone Wars. He said yes, but they kept insisting on telling him how cool the roll was, and he maintained that it was already a done deal. They didn't have to sell him, he was on board no matter what part he got. When he read for the Son in the Mortis Trilogy, he wasn't sure how he would distinguish him from Starkiller. Dave Filoni, the left hand of George Lucas on the Clone Wars told him that Starkiller was just a taste of the Dark Side, Maul was a taste, the Emperor was just a taste. The Son was the very personification of it. So he blended his performance based on quite a bit of what had been done with his own flair. The rest is Clone Wars history, as he got offered to play the part of Darth Maul not long afterward. He did talk about Episode VII and his excitement that JJ Abrams was directing. I have to say, and admittedly I haven't listened to Rebel Force Radio for their opinions (though Troy has kept me informed on that front), he made the first case for it that I was behind. He talked about a lot of the life that Abrams infused into Star Trek. Mind you, I still feel that Trek was best on its characters vs. its story, but there was an actual level of enthusiasm to the project that most of the property runners hadn't brought to it in quite some time. Having said that, I will NOT discount that last season of Enterprise for what they did with it. I've had some hardcore fans of that tell me it's the best Star Trek since the original series. While I'm still wary of both Star Trek Into Darkness and Episode VII, at least I know that its not resting on the laurels of running the same story repeated into the ground. I do wish, however, that Mr. Filoni could have had his shot at this one. That man can do big things, and Clone Wars has proven it time and again. I know there are probably reasons for it, but that's still my opinion.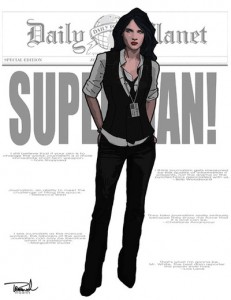 The last hour I spent on the dealers floor looking for the last buys of the con. I had a few, and thanks to Les of the Fellowship of the Geeks for turning me on to artist Tom Branch. I picked up a Lois Lane print he did. I loved the look of it a lot. This guy has a lot of talent. I should have known as much as he works with fellow Dallas online personality James over at A Galaxy Called Dallas. I've browsed through his work online, and I can see a couple of other pieces I'd like to pick up. Talent like this should be cultivated. I'd love to see any sequential art that he has handy, such a person should have his shot in the books if he can keep this level up on such things. It was something I never quite mastered, but then certain priorities changed for me. When I see someone do something like this, it does inspire the creative juices. I love being in environments where idea flow and one person's work inspires to make me rise above my current level. Looking at this piece as I write this, I can feel the want to take that next step in my own art.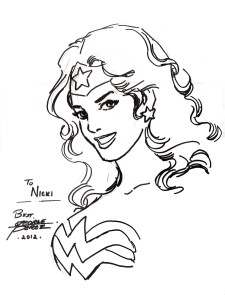 Speaking of taking that next step, one of my inspirations for art happened to be there. The legendary comic artist, George Perez, was sitting in a corner of the convention hall signing books and doing sketches. I had the distinct pleasure of meeting this man, which wrapped up my Sci-Fi Expo experience. As a gift to Troy, whose favorite character is Wonder Woman (thanks to Mr. Perez), I asked if he would do a quick sketch of the Amazon Princess. With a deft hand and a smile on his face, he obliged my request. I told him about Troy's fandom with this character and he was very kind and happy to hear such things. As I watched him work his magic, I managed to get out that he was one of the reasons I got into artwork and he giggled and said that he was glad he could corrupt…er….influence a generation of artist. I grinned ear to ear on that one. In a mere 10 minutes he produced a piece very similar to this one. I was duly impressed that I got to see the man ply his craft and had something for a friend to treasure by the man who sparked a large part of his fandom. I could not have asked for a better ending to an awesome two days.
This Sci-Fi Expo has been estimated at nearly 12,000 people at last count. That's quite a number for the 2 day February event. It wasn't jam packed as it was during last years Dallas Comic Con, but it remained very busy. Hopefully the dealer's room got quite a few sales from that, and I'll be looking forward to seeing what May's con will bring! Thank you to Ben Stevens and Mark Walters for another great convention that was full of great guests and fun, and a special big thank you for getting Sam Witwer in for us Clone Wars/Force Unleashed fans. I'll see you guys in May for Dallas Comic Con!