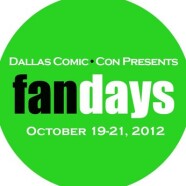 Oct

20
Tags
Related Posts
Share This
Dallas Comic Con Presents FanDays: Day 2

Day 2 of the con was a sheer blast of fun for all involved.
When the con opened for guests, my first job was to go and get the autographs that I was missing. Robert "Freddy Krueger" Englund and Tara Strong. As always, I felt the butterflies almost immediately as I entered the room. It's always fun to go through the lines because I get to talk with other fans and share the stories and cool stuff to be signed. Some people have unique things that they bring, such as this one man who actually had a custom made Freddy Power Glove from Freddy's Dead: the Final Nightmare. It lit up and was just an awesome piece. If you go on to Facebook, they are the "Freddy Glove Ninja Clan". If you're an enthusiast of Freddy's weapon of choice, then join the group and learn to create one of your very own! It's hard to do, but it looks better than the $20 knockoff you're going to find at the Halloween stores.
Mr. Englund was a trip. He was in full form as he told stories and telling people of the latest projects he was working on. He put on his Freddy persona (in just personality, no makeup) and delivered lines. His knowledge of Hollywood old and new is astounding. This guy really is a study of the business and rattled off more credentials than most actors could name of their own careers. When I got up to him, he gave me a lot of praise for what I did, and still talked about a lot of what he was currently doing and where to go for more stuff on him and his current projects, but always with grateful demeanor to all the fans that came out in force to see him. When he was doing his Q & A session, he was animated and gave rather long responses to questions. It was so insightful and informative that I could have sat through another hour of it alone.
While still in the autograph room, I also managed to get Tara Strong's autograph. If you wonder if she's like her characters, with sweet and charming personality and a possible stick of dynamite underneath all that; the answer is yes. She was a delight to meet in person. I told her I recently heard her Talkin' Toons interview with Rob Paulsen and we got to chat for a few moments. Again, she appreciated the time I took to work up a Batgirl for her, and I beamed as she took the time out to smile back.
The autograph room was full of buzz and excitement, and not just by the fans! Tara Strong was pulling her voice talents and making people laugh. Casper Van Dien was shouting out lines from Starship Troopers, and everyone was reacting to fans. This was a group of people excited to make their fans cheer and pump their adrenaline for the rest of the show.
Sean Astin was an amazing Q & A, as was Felicia Day. Both of them tossing around what makes them tick and really playing up to their fans. Again it makes going to these events worth everything. Ms. Day herself actually did something I wasn't expecting, and she wasn't aware she was doing it. When I go to these things, I generally have an idea of who will be there a great deal of time in advance. That's just paying attention to the website and making sure that nothing comes up in between then. I figure out money and logistics and then do the art pieces for such a thing. I got four autographs this time around, and one of which I wasn't expecting to. After seeing her episode of Supernatural, I smiled and thought perhaps I would get her autograph if I had the time to work up something. After her panel was done, I was kicking myself for not having the forethought to do so. I've been debating about breaking a cardinal rule of mine and getting her autograph and then picking it up again on something of mine should she come back through. It's my sincere hope that she will. There's something in how she spoke, and the things she does, that made me understand how much she cares about her fans and fandoms. She also plays the violin, and apparently well enough to earn money from it. That sort of story makes a fan like me appreciate the nature of a person like that. So, and I'm putting this out there now, I am going to get started on a Felicia Day piece and put my sincere hope to Mr. Walters and Mr. Stevens that you have her come back to see her Dallas fans. I'm very certain that this isn't something any one of them would be adverse to, and I'm hoping she won't be either.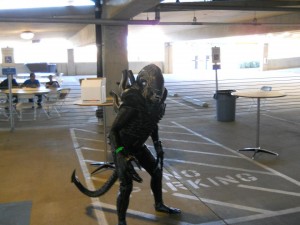 To make this short, because a second day at the con exhausted this fanboy, I want to give a shout out to all the cosplayers around the con. You guys were awesome! Big shout-out to Taffeta Darling for the awesome Dot Matrix costume from Spaceballs. There were a lot of great costumes, and I'm hoping to still catch several tomorrow! You guys make these events a truly spectacular place to be!
One last, but never least, note to convention goers: the United States Marine Corps has a Toys for Tots donation table set up on the 3rd floor on the con right across from the autograph room. I saw several donations made today, and I gave cash when I didn't have a toy available. Please, if you can spare some money or a toy, do so. I realize that you're shelling out a lot of cash already, but these soldiers are here, dressed in their finest, for a good cause. Please, donate a little something so a child with no means can have a nice holiday too.
Day 3 kicks off at 11 am tomorrow! I'll see you there!