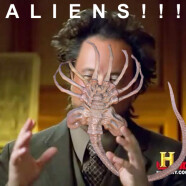 Nov

11
Tags
Related Posts
Share This
Podcast #83 – Aliens DVD Commentary
Podcast: Play in new window | Download
Subscribe: iTunes | Android | RSS
As promised this time around we did a DVD commentary for Aliens. We had a blast recording this, one, and hope everyone has fun listening to it.
From Wikipedia:
Aliens is a 1986 science fiction action film directed by James Cameron and starring Sigourney Weaver, Carrie Henn, Michael Biehn, Lance Henriksen, William Hope, andBill Paxton. A sequel to the 1979 film Alien, Aliens follows Weaver's character Ellen Ripley as she returns to the planet where her crew encountered the hostile Aliencreature, this time accompanied by a unit of Colonial Marines.

Aliens' action-adventure tone was in contrast to the horror motifs of the original Alien. Following the success of The Terminator (1984), which helped establish Cameron as a major action director,[3] 20th Century Fox greenlit Aliens with a budget of approximately $18 million. It was filmed in England at Pinewood Studios and at a decommissioned power plant.

Aliens grossed $86 million at the US box office during its 1986 theatrical release and $131 million worldwide.[4] The movie was nominated for seven Academy Awards, including a Best Actress nomination for Sigourney Weaver. It won in the categories of Sound Effects Editing and Visual Effects. It won eight Saturn Awards, includingBest Science Fiction Film, Best Actress for Weaver and Best Direction and Best Writing for Cameron.
Aliens is another of my favorite movies. For a great movie night turn up the AC, turn out the lights, and watch an Alien and Aliens double feature.