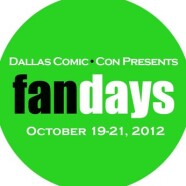 Oct

22
Tags
Related Posts
Share This
Dallas Comic Con Presents FanDays Day 3

The closing day of the con wasn't nothing of what I expected, but in a very good way!
Day 3 saw Carl and I arrive around 30 minutes early, and we were told to come in with the General Admission. With no problems to that effect, we went to the parking garage where they had been lining up all the people with passes and those that were waiting to buy them. The crowd was huge! Not as much as Saturday, but definitely bigger than Friday's turn out! I was impressed with the number of people we saw passing through the doors into the convention.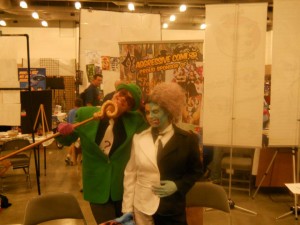 The cosplayers that passed my direction today still amazed me! There were so many great ones as we walked through the dealers room. The dedication to the fandoms were spectacular, so much so it's made me want to consider a costume design of my own. The only problem is that my body type doesn't lend well to the superhero genre that I would generally gravitate towards! I'm sure with work on my part on dropping some inches and a little research I could come up with something fun! One of these days, anyway!
The last 3 Q & A sessions were all worth hearing. Alan Tudyk and Gina Torres from Firefly went first. Now, I've mentioned before that I'm not a Firefly fan. I was okay with it, but I won't be trading in my Starfleet uniform or my lightsaber for a brown coat any time too soon. However, their panel was hilarious and just a great deal of fun to be a part of. The fans of Firefly were out in force, and showing some love for a property that I've rarely seen in anything other than Star Wars. Granted I've never been to a Doctor Who panel, but I had to give a lot of credit to those fans and the cast members. Alan Tudyk wins awards with me for putting his comedy skills to good use and just being out there for his fans. Gina Torres held herself with dignity, but still allowed herself to go into a few really good comical moments. It was hilarious when Mr. Tudyk actually called Nathan Fillion to try and get him to answer a few questions. It went to his voice mail, but still it was a fun moment! I tip my hat to them and to the fans that came to support it!
The next panel was with Eddie McClintock of Warehouse 13 fame. He was a genuinely funny man, who told a lot about himself. He talked about his love for Bruce Campbell, and how he had a true fanboy moment on Saturday night when he, Dina Meyer, and Tara Strong all went out for dinner! A car pulled up and inside of it was Mr. Campbell himself. To hear him tell it, it was like Indiana Jones finding the Ark. It was an awesome story! To add a lot more awesome to this man's panel, Mrs. Strong was actually in the audience listening with us. Well, mostly, but you can hear more about that on the panels. The story of his sobriety is worth hearing. It touched another member of the audience enough to stand up and talk a bit about his own problems and going sober. It was a great panel to sit in and listen to.
The last of the day was Lance Henriksen. To be very honest, I wasn't sure what to expect. Here's a guy that always seems to play this very imposing individual. Maybe he's not as big as me, but tell me that if he was staring you down that you would make a move? He came on 10 minutes early and sat down to talk with us in a very quiet and blunt manner. He talked a lot about projects that he'd been in and some that he'd done as "alimony movies." As a matter of fact, one of the audience members started to ask him about one film in particular, I believe it was called the Garden, and responded that it was indeed an alimony movie. While he wasn't knocking the fact she liked it, he thought it was a pretty horrible film. He told a lot of tales out of school for this one, and I got to learn a lot about the Terminator I never knew before, and how James Cameron was always looking to put him in things. He did get asked about his role in Disney's Tarzan, and he responded that he liked it. It was the first movie of his he could show his 12 year old daughter. That made me smile a bit, because I am such a huge Tarzan fan. It made me realize that I likely would've drawn a Kerchak for him to sign, had I went out for his autograph.
That was something of a surprise to me, even after acquiring the signatures that I actively sought out, this con made me feel like getting more. There were so many actors that I got a better feel for after these panels that I actually felt the urge to pay a few more dollars to pick them up. Having said that, my cardinal rule is always to have artwork ready. Though I have nearly faltered on that front, I stayed my course because in the end that's how I show my love and respect. I am so looking forward to the next time these awesome people come through town. I'll be broke, but the experience is worth every penny.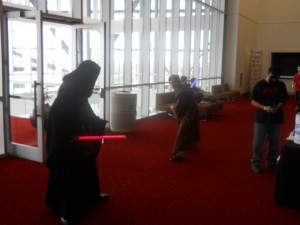 In the "Not to be Forgotten" list, because it would be a crime to, I met some wonderful people from the Sith Shadow Council of Texas! They were taking donations to give to a diabetes charity. They were very nice people who do things for good causes, plus events and birthday Please check out there website or find them of Facebook! They were doing mock lightsabers battles when I got there. I did a little filming of them, and we'll be posting that on our YouTube channel. Show some love and support their way.
I also want to give a shout out to the Wraith! He was in the costume contest yesterday, and also walked the convention hall today trying to get the word out on an independent project that he and others are working to get made. It seems that the Wraith is going to be the subject of a short film and a comic book! The guys doing this were very cool and spent a little time with Carl and I. If can help them out then please go to their website or onto Facebook.  They even have a Twitter account @WRAITHSHORTFILM Give them some time, and if you can a donation. Sometimes we need a little help getting a project off the ground. Make that project something constructive; these guys surely are!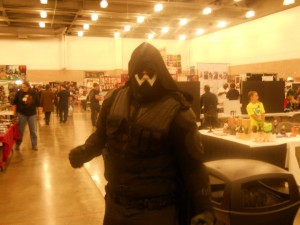 Let's not forget a few other groups out there that are helping people.  I want to send out my support to the 501st for all their work to not only support the fandom, but to give themselves over to charity work.   This group is dedicated, and puts that dedication to good use.    Give them a shout out when you see them!   I think I can speak for all of us here at SciFiFX when I say we support them and their causes!
I also wanted to give a my support to the United States Marines for the Toys for Tots drive they were running during the con.  Always a pleasure to support a worthwhile cause.  I hope to hear that they did well at this convention and will return again in future.   If you gave to them, thank you.  I feel close to this cause for two reasons.  The first is that my grandfather was a Marine in World War II.   The second is because I believe that children should get something new during the holidays.   It's really tough for us all these days, and some more than others.    If you can't give, it's understandable.  If you have the means to, please do.   I don't mean to be preachy or pushy, but I support those who support others that have nothing.
To wrap this up, I want to give a big thank you to Ben Stevens and Mark Walters for another great show! I'm sorry that it went by so fast, even though I'm sore for all the stuff we did over the past 3 days. I will be there with a smile on my face for Sci-Fi Expo in February. I've always had so much fun at their cons that going back to real life can sometimes drag afterward!
I also want to mention the huge improvements that were made over Dallas Comic Con. The issues that were brought up at last convention were addressed and dealt with. It was very appreciated! This goes to show you that these guys listen.
Last, but not least, I want to thank Carl and Matt for being there with me on this trip the con!   We always have so much fun at these, and I love meeting the people that make it go around.   It took a long while, but the party continued on Twitter long after the con ended.   I hope to keep in touch with these people and look forward to seeing the Tweets from the celebrities who attended.   They've got busy lives, but it's always cool when they answer their fans back!  Sign of awesomeness!
If you didn't make it to this con, my apologies to you. I wish I could have seen you there!  I hope to see you in February at the Irving Convention Center for Sci-Fi Expo!