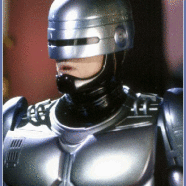 Sep

30
Tags
Related Posts
Share This
Podcast #70: RoboCop DVD Commentary
Podcast: Play in new window | Download
Subscribe: iTunes | Android | RSS
I know I promised the next commentary would be Aliens, but hey we changed our minds.  We'll do Aliens next time, I promise.  After seeing the disappointing set photos of the new RoboCop, we were all in the mood to watch the original Robo.  RoboCop is a great SciFi/Action movie, even with some of the computers, cars, and hair styles being woefully out of date, it still holds up.
From Wikipedia:
RoboCop is a 1987 American science fiction action film directed by Paul Verhoevenand written by Edward Neumeier and Michael Miner. The film stars Peter Weller, Dan O'Herlihy, Kurtwood Smith, Nancy Allen, Miguel Ferrer, and Ronny Cox. Set in a crime-ridden Detroit, Michigan in the near future, RoboCop centers on police officer Alex Murphy (Weller) who is brutally murdered and subsequently revived by the malevolent mega-corporation OCP as a superhuman cyborg law enforcer known as "RoboCop".

RoboCop includes themes regarding the media, resurrection, gentrification, corruption,privatization, capitalism, masculinity, identity and human nature. It received positive reviews and was cited as one of the best films of 1987, spawning a large franchise, including merchandise, two sequels, a television series, two animated TV series, and a television mini-series, video games and a number of comic book adaptations/crossovers. The film was produced for a relatively modest $13 million

We had a lot of fun recording this commentary, and hope you have fun listening to it.