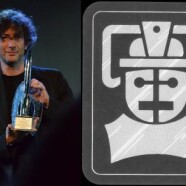 Nov

07
Tags
Related Posts
Share This
Neil Gaiman Doctor Who Episode Will Have Cybermen!
Back in August I posted a rumor about Neil Gaiman writing an episode for series 7 of Doctor Who where in he would re-imagine the Cybermen.  To make a long story short, nothing could be found other than the rumor, then Gaiman said in an interview that he wasn't writing it.  After that in his Hugo acceptance speech he said that he was in the third draft of a Doctor Who episode.
The interwebs and Twittershpere exploded with excitement and speculation.  Would  Mr. Gaiman's episode be in series 7 or series 8 as they were already filming series 7?
The answer came a couple of weeks ago when Doctor Who Magazine listed the names of the writers and directors for the last 8 episodes of series 7, and low and behold Neil Gaiman is listed as the writer of the penultimate episode of series 7.
So Neil Gaiman is writing an episode of Doctor Who for series 7, but what about the last part of the rumor where he is supposed to re-imagine the Cybermen?  Well, it was confirmed today that the Cybermen will be in Gaiman's episode.  Nothing has been said as to whether he will be re-imagining them.  I hope so, the Cybermen have always been my favorite Doctor Who baddies, but I have never cared for the alternate dimension Cybus-men.  I want real Mondasian Cybermen back, with a new body design.  I have no doubt that Gaiman can use the Cybermen well in his story, but I'd love to see his design idea for a new version of them.
From the BBC Press Release:
We can confirm that the Cybermen will be menacing the universe once again when Doctor Who returns for a run of eight epic episodes in spring, 2013.The iconic enemies will feature in an adventure directed by Stephen Woolfenden and written by the acclaimed Neil Gaiman whose previous episode was the Hugo Award-winning, The Doctor's Wife.

Starring Matt Smith as the Doctor and Jenna-Louise Coleman as the new companion, the episode co-stars Warwick Davis (Life's Too Short and Harry Potter), Tamzin Outhwaite (EastEnders and Hotel Babylon) and Jason Watkins (Being Human and Lark Rise to Candleford) as a band of misfits on a mysterious planet…

Steven Moffat, Lead Writer and Executive Producer, told us, 'Cybermen were always the monsters that scared me the most! Not just because they were an awesome military force, but because sometimes they could be sleek and silver and right behind you without you even knowing. ' He added, 'And with one of the all-time classic monsters returning, and a script from one of our finest novelists, it's no surprise we have attracted such stellar names as Tamzin, Jason and Warwick.'
As a big fan of Doctor Who, the Cybermen, and Neil Gaiman this was a great birthday present, so thanks Neil, Steven, and the BBC.