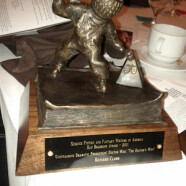 May

23
Tags
Related Posts
Share This
Neil Gaiman and Richard Clark Win Bradbury Award for "The Doctor's Wife"
Richard Clark and I just won a Bradbury Award at the Nebulas for The Doctor's Wife. The award looks like this. I am so very happy." – Neil Gaiman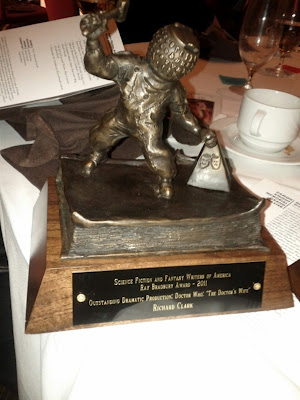 Doctor Who: The Doctor's Wife beat alot of other great SciFi fare, oh and Attack the Block too.
Attack the Block, Joe Cornish (writer/director) (Optimum Releasing; Screen Gems)
Captain America: The First Avenger, Christopher Markus, Stephen McFeely (writers), Joe Johnston (director) (Paramount)
Hugo, John Logan (writer), Martin Scorsese (director) (Paramount)
Midnight in Paris, Woody Allen (writer/director) (Sony)
Source Code, Ben Ripley (writer), Duncan Jones (director) (Summit)
The Adjustment Bureau, George Nolfi (writer/director) (Universal)
Not sure why Attack the Block has gotten so much critical acclaim.  I was not impressed with it at all.  I'll give them this, the Space Apes were pretty cool looking, but that was about it.  I constantly just wanted to smack some sense into the gang members.
But this is not about Attack the Block, it's about a wonderful episode of Doctor Who.  One of my personal favorites.  So thank you Neil Gaiman and Richard Clark for giving us a real classic in the long and distinguished history of Doctor Who.  Oh and congratulations on the Bradbury Award!