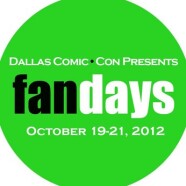 Oct

19
Tags
Related Posts
Share This
Dallas Comic Con Presents FanDays: Day 1

The first day has ended, and I'm as buzzed as I can be. I've been pumping off of adrenaline all day with anticipation of the stars I would meet and the general excitement of being with the fans.
Today saw more people than I actually expected. There were at least a couple thousand that showed up, and some were in very exquisite costuming. It never ceases to amaze me the strength of the fandom in people as they don these well thought out costumes/uniforms. Of course, I got to see many members of the 501st wandering the halls in Stormtrooper armor. With this con boasting three Sith Lords, it was only natural that the legion known as "Vader's Fist" would be there in force (pun intended).
Many of the stars weren't there today, but that didn't stop me from seeing several that were. Stan Lee, Ralph Bakshi (Wizards, the Lord of the Rings animated, Cool World) Sean Astin (the Goonies, Lord of the Rings, Rudy), Donnie Dunagan (Bambi, The Son of Frankenstein) and a host of very talented comic artists were getting the con into full swing.  I hope to visit each individual before the con is over, but the first and foremost person I wanted to meet with was Al Plastino.  This is the artist that brought us Supergirl. I got to shake the man's hand and told him that if it weren't for people like him, I wouldn't have gotten into art. He smiles and said thank you, and then proceeded to tell me that having four kids influenced his decision. Go ahead and not laugh at that, I dare you not to.
I went over to see Dave "Darth Vader" Prowse, after that. Wasn't expecting to get his autograph, but I had a digital piece I had done sometime back that I couldn't pass up getting his name on. It had several other autographs all over it, and he started to tell me a few things about the different people he got to know that had signed. It's these little moments I lived for. The quiet spoken gentleman gave me nearly 10 minutes of his time.
Going around the different dealers booths, I saw a treasure trove of collectibles all over the place. Stuff from the recent months donned the tables, and some from so far back that my jaw hit the floor in disbelief. I actually saw an old Zorro hand puppet from many years back. Faded and stained from age, it was still in really good condition and was an absolute treat to see. On that same table, were several old paperbacks in various conditions. I picked up two, one was an old novel sized New Teen Titans book, which were the comics miniaturized to fit into the smaller format. The other was Doc Savage: The Man of Bronze. I have this one in a larger format with another story after it, but there was something about having this in hand that made me beam! It also didn't stop me from buying a couple of art prints. One was a decadent looking Poison Ivy, which came with another free larger print. I picked Ms. Marvel because it was gorgeous! The other I picked up was a Sheldon Cooper from the Big Bang Theory that says:
I'm not crazy! My mother had me tested.
I went to the 3rd floor and it was there that I got to get the most expensive autograph to date; Mr. Ian "Emperor Palpatine" McDiarmid. This man was full of smiles and told me that the piece I had was wonderful. I told him that he completed the three Sith that were attending the convention for me. My first autograph is that of Ray Park (who will also be in attendance this weekend) on a Darth Maul piece that I did for fun. Troy obtained that autograph for me and started me on the path of doing this for the last 10 years of my life. Mr. McDiarmid continues this proud tradition with me and adds another great story to the collection. It might be expensive, but I cannot tell you the sheer amount of priceless treasure I get out of this. Thank you to all the celebrities I get to share this with, and especially to my best friend and co-host; Troy. If it weren't for him, this tradition wouldn't have gotten started.
Not to be forgotten, at DCC (Dallas Comic Con) I had met a guy in line for Patrick Stewart's autograph. His name was Keith, and he was dressed up as Spider Jerusalem from the comic Transmetropolitan. If you listen to podcast 50, you'll hear me talk to him for a little bit. I actually ran into him here, and to my surprise he remember me! The bonding of fans is cool in these lines, don't knock it! I'm simply amazed at the amount of people I can get to know, if only for a day that I have that fan moment with. One of the reasons to go. When you go to another and you can still remember 'em, that's awesome! Hanging out with Carl, who does a lot of these as a dealer in the dealers room, it's amazing to get to meet the people behind the tables. His wife Becka does so many, and has such a personality that it's hard not to want to talk to her, but some of these other guys can be faces in a crowd. If you've got someone with you that knows the face on the other side of the table, then it's a different experience. A pleasant one at that!
I also want to give a shout out to Joe George, who decided to join me in some antics today! We always have a fun when we get together at these things. He always gives me heads up on stuff around the convention and generally being of great help to me. He's a great friend and cohort! Same can be said of Thomas and Les from the Fellowship of the Geeks! It's always good when we of the Geekdom Nation can find each other and have a few laughs!
Last on the list, a shout out to one volunteer; Mark, or Dr. Gizmo as he's called. Sometimes dressed as a Klingon, but usually with his hat and Klingon pin walking the halls trying to help out those who need it most. I mentioned in the Day 2 article of DCC that a volunteer helped me out when I couldn't get answers anywhere else. I finally learned his name, got to talk with him a bit, and had a few laughs too. It's great to finally meet him properly!
Day one is wrapped and I had a blast. Great people, wonderful guests, and the chance to be my goofy self all over the con!
Day two of this con promises to be as busy as DCC was, and I can't wait! Tomorrow I meet Robert "Freddy Krueger" Englund and Tara Strong. I'd go through Mrs. Strong's list of characters, but I'll point you to her IMDb page instead. Seems like a far easier thing to do for this dynamite voice talent.
See you tomorrow at the con!