The Lone Ranger In Trouble Again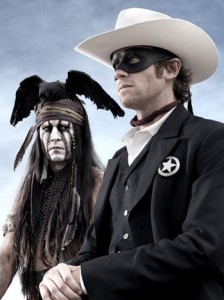 It seems that strife has hit the Lone Ranger again!
News from the Hollywood Reporter says that Gore Verbinski's reimagining of the western classic has gone back to the original $250 million dollars that it was initially slated to have. The studio gave him $215 million when the project was put back on the slate. They are also days behind schedule and rewrites are going on in the midst of this "special effects heavy" film. Already, sacrifices and trims have been made, one mentioned especially was a train scene. It was cut due to the expense of using a period train for the bursting production. This isn't the first time that Disney, the studio funding this project, has had problems this year. The first was with John Carter, which turned out to be a major bust for the studio. So much so that Rich Ross, the studio head, resigned. Luckily, Disney made up for the loss with the Avengers and will likely get a good yield from their Pixar side with Brave.
It's no secret that I haven't looked forward to this film since I heard they were making it into Don Quixote. There have been some that have said this could do for westerns what Verbinski did for pirates with Pirates of the Caribbean. I don't know that it's necessarily true. I believe that a Lone Ranger movie wouldn't be hard to do, and could reinvigorate the western into theatres. The last time the Ranger was in theatres was in 1981's the Legend of the Lone Ranger, which was ill-recieved by everyone. When the Dynamite Entertainment comic series came out, it was well received by many. Some of the veteran Ranger fans didn't much care for it due to the amount of graphic violence that came from it. However, it was nominated for an Eisner (comics answer to an Oscar) and even western magazines seemed to pick up on the series as being worthwhile. It seems to me that the time is right to put out a film like this. In the right director's hands, this is a worthwhile property. It could bring a level of sophistication to the Ranger while still honoring its roots in radio and TV.  I have never forgotten watching Clayton Moore on the weekends, as one of the TV stations showed old westerns most of the afternoon. Everything from the Rifleman (another personal fave that's about to get remade) to Bonanza.
You know this rant pretty well from me now, so I won't go too hardcore into it. It all comes down to the same arguments: Know the story. Know the characters. If you're not going to do the story precisely; at least be faithful to who these characters are!  The last attempt to put the Ranger and Tonto on film was the WB's  The Lone Ranger.  This was a TV movie that was meant to bring the Ranger back in a new TV series.   The casting of the Ranger was Chad Michael Murray, who starred in WB's/CW's One Tree Hill.  As to casting choices for this movie, I don't know Armie Hammer. Depp as Tonto is so off to me. I know that he was recently adopted by the Comanche Indians, a tribe based out of New Mexico. It's also the tribe that Depp's version of Tonto is based on. Many believe that he would be Apache, but Depp confirmed otherwise. Tonto was identified in the radio shows as being from the Potawatomi tribe. This tribe is based out of the Michigan, Wisconsin and even Oklahoma region. Some have found this to be a great look for the character, while others have found it a great deal more offensive.  Here is an article explaining why this author is offended by Tonto's new look. Here's another who's author believes that they did a fine job (using this for the sake of opposing opinion, for what it's worth).
Back on Depp being off to ME: his personas in movies lately have been all flash and no substance.  His portrayal of Barnabas Collins as a caricature left me rather cold to his abilities.  It took it especially hard, because not only was I a fan of Dark Shadows, but Depp swore blindly that he was too!    He wanted to bring this reverence to Barnabas, and it's nearly what he's said he wants to bring to Tonto.   I can't say how he'll "play" Tonto, per se, but there's a reason that people say "pictures are worth a thousand words."   In the past Tonto has always been offensive to Native American groups, despite Jay Silverheels being in the role and doing his best to make the character a worthwhile hero next to the Ranger.   In comics, he's been portrayed quite intelligently!    This is Depp's attempt at making sure that Tonto is respected on the big screen.  I'm sorry, I'm not seeing it here.
The Lone Ranger is expected to come out in August 2013, if production problems don't shut it down or push it further back.