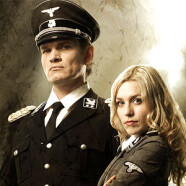 Aug

13
Tags
Related Posts
Share This
Review: Iron Sky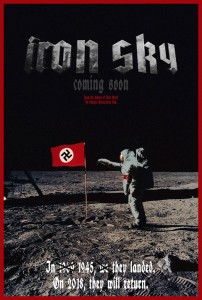 The year is 2018.  African-American model James Washington is sent to the moon as part of a publicity stunt for the President of the United States as part of a re-election campaign.  But when his craft lands a little too close to a secret Nazi base, the Moon Führer believes Washington to be the advance scout of an attack force.  The time has finally come for the Fourth Reich to invade the Earth!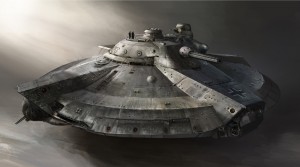 To pave the way for their invasion, ruthless Führer-to-be Klaus Adler and idealistic Renate Richter travel to Earth.  Their mission: to recruit as many as they can in the cause of National Socialism and seek out the power found in the devices known as "telephone computers."
This is the setup for the sci-fi comedy Iron Sky, directed by Timo Vuorensola.  He and his film crew clearly have a love of classic science fiction, and they want to share it with you.
Hollywood, take note.  What follows is an hour and a half of some of the best science fiction to grace the screen in recent years.  No, it won't compete with The Avengers, but name a non-tentpole movie, and this film will likely crush it.  Visually, it's space opera – steampunk style.  The gothic-industrial design of the Nazi technology is as beautiful as it is terrible; you can tell the art department had a lot of fun with this one.  The space combat is one part The War of the Worlds, one part Star Wars.  Even the soundtrack is a masterstroke, drawing from the likes of Wagner (as one would expect) with musical cues from various John Williams scores, including "The Imperial March" and infamous Jaws theme.  The acting?  It's pure B-movie, and you wouldn't want it any other way for this.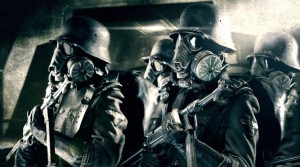 Iron Sky is also some of the funniest and most direct political satire I've ever seen in my life, taking aim at pretty much everything the U.S. has done wrong since 1945.  The classic warning from history is that fascism cloaks itself in the colors of its own flag.  Iron Sky points it out with all of the subtlety and finesse of an episode of South Park.  I won't spoil it here; let's just say that neither side of the two-party system is safe from this one.
In short, this film is sheer genius.  I want more.
Iron Sky stars Julia Dietze, Gotz Otto, Christopher Kirby, and Peta Sergeant.  It is available in the U.S. today on Blu-ray and DVD.