Stalled Trek: Amutt Time review
If you have read any of the Dallas Comic Con stories I've posted here, then you know I bought a DVD called Stalled Trek: Amutt Time. If you haven't read that, then you now know!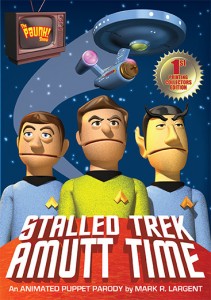 I purchased this DVD from Mark R. Largent, the creator of Stalled Trek, while we interviewed him for the podcast. While we talked, I was watching the animation playing on the small TV he had brought with him, and found myself continually laughing at the visuals I saw. While I couldn't hear the audio, the one thing I could see is that this man understands Star Trek.
The 15 minute animation condenses the episode Amok Time into a genuinely funny spoof. It gives us the crew of the Secondprise going on a mission to the Vulcanine homeworld to help Mr. Spot with his "biology" problems.
Sadly, there is very little details I can give you without spoiling it. It has a lot to offer in it, for the short run time of the video. For $10, it's actually a really nice buy that I'll be showing to others.  So far, everyone I've shown this to has given it a thumbs up.  In fact, the only complaints I've heard is that they wish there was a little more to it.  Which they understand that due to time and being the first full animation from Mr. Largent, that something longer could come our way eventually. Maybe not within the next spoof or two that he will be releasing, but I know for my part I'd love to see a full length Star Trek episode come out of Stalled Trek. All I can say, is if it doesn't happen I will definitely take what I can get!
This is a high recommendation on my part. This project is very much a starter, but it's got a great feel to it. Almost like Star Trek fell into the Muppets. I think that was what Mr. Largent was aiming for, so complete success in my book.
For this DVD go to:
http://paunk.storenvy.com/products/366299-stalled-trek-amutt-time-dvd
To Mr. Largent; I eagerly await your next installment!