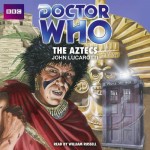 Jun

30
Tags
Related Posts
Share This
Doctor Who AudioGo Releases For August
AudioGo is giving a Classic Doctor Who story and a new Second Doctor novel, full unabridged audio books. They will also be releasing the 5th and final collection of Lost TV Episodes. All of this Doctor Who Audio goodness will be released by AudioGo in August.
From AudioGo:
The Aztecs
Written by John Lucarotti
Read by William Russell
Release date: 1st August 2012 (Digi); 2nd August 2012 (CD)

In John Lucarotti's 1984 novelisation featuring the First Doctor, the TARDIS materialises in Mexico during the Aztec civilisation and Barbara is hailed as a reincarnation of Yetaxa, High Priest of the Aztecs.

But while each of the travellers becomes embroiled in the arcane ways of the Aztecs, Barbara's determination to change history seems doomed from the start.
The Wheel of Ice
Written by Stephen Baxter
Read by David Troughton
Release date: 16th August 2012 (CD or download)

This unabridged reading of a brand-new BBC Books novel features a ring of ice and steel turning around a moon of Saturn, home to a colony mining minerals for a resource-hungry future Earth.

Aboard the Wheel, which has been plagued by problems, the Second Doctor, Jamie, and Zoe find a critical situation – and three strangers who have just turned up out of nowhere look like prime candidates to be accused of sabotage . . .

The Doctor finds himself caught up in a mystery that goes right back to the creation of the solar system.
The Lost TV Episodes Collection 5 (1967-1969)
Release date: 1st August 2012 (Digi); 2nd August 2012 (CD)

The fifth and final instalment in the series features soundtrack adventures from the Patrick Troughton era.

This box set comprises six stories that are either wholly or partially lost from the TV archives, but which can be enjoyed in their entirety on audio. Presented in chronological order of transmission, they are The Enemy of the World, The Web of Fear, Fury from the Deep, The Wheel in Space, The Invasion, and The Space Pirates.
Linking narration is provided by a member of the original TV cast, and the box also features bonus interviews and PDFs of the original TV camera scripts.
All this audio Whoness should help Doctor Who fans hold out until the show returns to the airwaves.