Some Love for Bitterblue!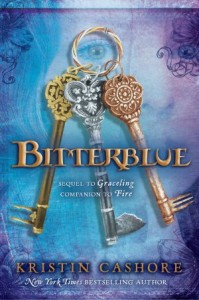 Today, io9 posted an article titled: Fantasy Novels That Will Restore Your Faith in Humanity.  They got together some of their favorite fantasy authors of today and posted what they thought to be really good fantasy stories that, well, restore your faith in humanity.
Now I could go on for a long while telling you what each one was and my thoughts on all of them, but I don't feel like ripping off their article. I'm sure the contributors at io9 would thank me for that. So why mention this article at all? One author that gave response to their call: Gwenda Bond, the author of Blackwood, chose Bitterblue!
If you weren't aware, we have a contest currently running to win a copy of Bitterblue and a $50 VISA cash card. For the article with all the details on how to enter, go here!
I always like seeing stuff like this myself, a story that makes people feel good. There are some great choices on the io9 list for certain, some I've never read myself. As a fan of sci-fi and fantasy, I love to delve into a good story and get lost for hours. I prefer them not to be an apocalypse every story. I like the idea that the good guys get the upper hand.  It makes me feel like there's a brighter world, even amongst the gloom of the day.
If you have read the other two books in the Kristin Cashore series; Graceling and Fire, please comment or write us at podcast@scififx.com. We would certainly love to hear from you, especially myself! I'm always on the look for a new series to start!