Bitterblue Book Contest!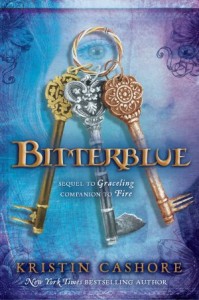 Kristin Cashore has just released her latest book in the Graceling series, BitterBlue.
Bitterblue is the long-awaited companion to New York Times bestsellers Graceling and Fire.

Eight years after Graceling, Bitterblue is now queen of Monsea. But the influence of her father, a violent psychopath with mind-altering abilities, lives on. Her advisors, who have run things since Leck died, believe in a forward-thinking plan: Pardon all who committed terrible acts under Leck's reign, and forget anything bad ever happened. But when Bitterblue begins sneaking outside the castle–disguised and alone–to walk the streets of her own city, she starts realizing that the kingdom has been under the thirty-five-year spell of a madman, and the only way to move forward is to revisit the past.
Two thieves, who only steal what has already been stolen, change her life forever. They hold a key to the truth of Leck's reign. And one of them, with an extreme skill called a Grace that he hasn't yet identified, holds a key to her heart.
The best part? We have a prize pack to give away to a lucky winner. All you have to do to for a chance to win is send an e-mail to contests@scififx.com with the subject of Bitterblue. The winner gets a $50 VISA cash card and a copy of BitterBlue! We will announce the winner on May 31st. So get your entry in before midnight on May 30th.
Read an excerpt from BitterBlue.
Check out the Graceling Realm official website.
Keep up with the latest developments at the Facebook Fan Page for the Graceling Series.
Learn more about the author at Kristin's website.
As with many books these days there is a trailer, check it out.