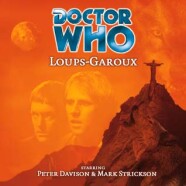 Jan

19
Tags
Related Posts
Share This
Review – Big Finish Doctor Who #20: "Loups Garoux"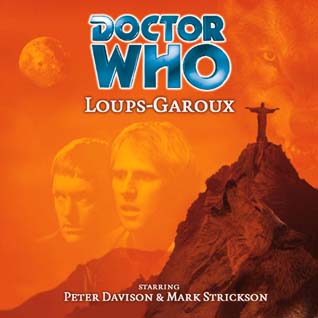 This is the next in line of my Big Finish Productions Doctor Who retro-reviews.
#20 – "Loups Garoux"
From Big Finish's site:
Germany, 1589: the townspeople of Cologne pronounce a sentence of death on a mass-murderer who has stalked the countryside in the guise of a ferocious wolf.
Russia, 1812: retreating from Napoleon's invading forces, a merchant's daughter is rescued from bandits by a handsome partisan with a ravenous appetite.
Brazil, 2080: The Doctor and Turlough arrive for the Rio de Janeiro carnival.
Is wealthy heiress Ileana de Santos all that she seems? What sinister ailment afflicts her invalid son, tended by the mysterious Dr Hayashi? And who exactly is Rosa, engaged on a secret quest to fulfil the destiny of her extinct tribe?
Time is running out for Rosa, Ileana and the Doctor, as the fearsome shadow of an ancient werewolf moves ever closer…
Written By: Marc Platt
Directed By: Nicholas Pegg
Cast
Peter Davison (The Doctor); Mark Strickson (Turlough); Eleanor Bron (Ileana de Santos); Burt Kwouk (Doctor Hayashi); Nicky Henson (Pieter Stubbe); David Hankinson (Anton Lichfuss); Sarah Gale (Rosa Caiman/Samba Girl/Tannoy Voice/Ticket Inspector); Jane Burke (Inez); Nicholas Pegg (Magistrate); Barnaby Edwards (Victor); Derek Wright (Jorge)0rc Platt (Tourist); Alistair Lock (Greetings Card); Jez Fielder (Jaguar Maiden Vocals)
***minor spoilers ahead***
This is one of those classic cases where Doctor Who takes something out of legend and plays it at face value.  In this case, the story involves Pieter Stubbe, who is known to history by variant spellings as the Werewolf of Bedburg.  In this version, however, Stubbe is not only a "real" werewolf, he's the alpha: the first werewolf.  An interesting aside, the opening sequence of the tale takes place at Stubbe's trial in 1589 and utilizes actual testimony written into record.  Little things like this make all the difference for me when it comes to setting up a parallel mythos.
The story revolves Ileana de Santos, who was Stubbe's victim and mate back in 1812, and she's been running from him ever since, protecting her son.  When the Doctor and Turlough get involved in her escape, they become targets of Stubbe and some of Ileana's own pack.  For a little local flavor, the character of Rosa Caiman is tossed in, looking to follow in the footsteps of her grandfather by proving her worth to her tribe, taking the mantle of the jaguar maiden and hunting the Loups-Garoux.  Where it first becomes complex is when Turlough is led to believe that perhaps he's one of them.  Then to make matters worse, when Stubbe returns to claim Ileana as his own once more, the Doctor steps in to challenge him for the protection of the people Stubbe's terrorized and for Ileana's hand.  Crazy?  You betcha, as only it can be in a Doctor Who story.
It's an incredibly simple setup, rich in character development.  There are a lot of little touches in the dialogue that develop the wolf pack quite well, giving the sense of a culture quite apart from the normal human cultures, and just as many touches that develop the Doctor and Turlough along the lines we've come to expect.  I have to admit, I'm not real keen on the writing for the Rosa character, but you can't have everything sometimes.  Everything else comes together quite nicely, and it's well worth the listen for a good character story.  As good as it is, I can't help but think there's a missed opportunity in not dealing with the historical accounts of the Stubbe serial killings.  Being Big Finish, you never know if that'll come down the pike later on or not.  Anything is possible.