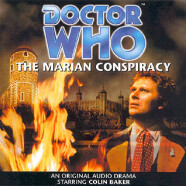 Oct

13
Tags
Related Posts
Share This
Review – Big Finish Doctor Who #6: "The Marian Conspiracy"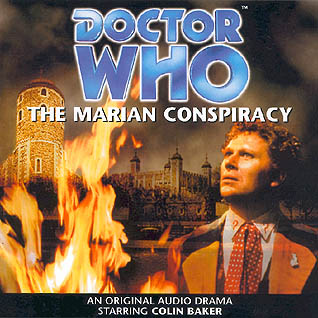 After a week long intermission of 007, this is the next in line of my Big Finish Productions Doctor Who retro-reviews.
#6 – "The Marian Conspiracy"
From Big Finish's site:
Tracking a nexus point in time, the Doctor meets Dr Evelyn Smythe, a history lecturer whose own history seems to be rapidly vanishing.
The Doctor must travel back to Tudor times to stabilise the nexus and save Evelyn's life. But there he meets the Queen of England and must use all his skills of diplomacy to avoid ending up on the headman's block…
Written By: Jacqueline Rayner
Directed By: Gary Russell
Cast
Colin Baker (The Doctor); Maggie Stables (Evelyn Smythe); Sean Jackson (George Crow); Gary Russell (John Wilson); Jez Fielder (William Leaf); Jo Castleton (Lady Sarah); Anah Ruddin (The Queen); Nicholas Pegg (Reverend Thomas); Barnaby Edwards (Francois De Noailles); Alistair Lock (Royal Guard)
*** minor spoilers ahead***
This audio marks the first featuring an original Big Finish companion, in this case, middle-aged Tudor historian Dr. Evelyn Smythe.  Being the consummate professional, and having patterned her own attitudes and philosophies after her personal heroine, Elizabeth I, Evelyn is the type who takes good care of her students and takes nothing from the 6th Doctor when he first appears in her lecture hall, on the hunt for a temporal anomaly.  After a bit of convincing, Evelyn shares her family history with the Doctor, only to find out that it – and she – are in danger of being erased from history.  The obligatory trip in the TARDIS to Tudor England becomes a rescue mission.
One of the hallmarks of classic Doctor Who is the ability to completely immerse the story against the backdrop of history.  This episode has that same kind of feel.  Where the earlier "Phantasmagoria" gave listeners the idea of history, this one confronts it head on.  As an interesting character foible, Evelyn is the most anachronistic history scholar ever.  She carries a handbag full of cocoa, pain medication, the Doctor's "gizmo" that keeps her from being erased from history, and other knick-knacks into a "common London tavern" while wearing an orange Cardigan sweater.  You wouldn't think much about this, but even the Doctor dressed for the Tudor court as opposed to sporting his ever-outlandish multi-colored long coat.  This episode has a good bit of humor, and there's plenty of room for courtly manners, temporal mix-ups, political intrigue, assassination plots, prison escapes, and threats of execution as the Doctor and Evelyn unravel the mystery of her family line and attempt to put history back on course.
All in all, it's a solid story and a worthy introduction to the 6th Doctor's newest companion.  It's even better if you happen to be a history enthusiast like I am.  Well worth the listen, but then, I do say that about a great many of the Big Finish audios for a reason.