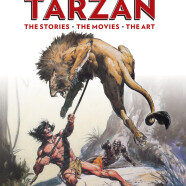 Dec

02
Tags
Related Posts
Share This
Review: Tarzan: The Centennial Celebration
If you are a Tarzan fan, or even if you're not, then I want to recommend Tarzan: The Centennial Celebration to you! Author (and Edgar Rice Burroughs expert) Scott Tracy Griffin has brought forth a labor of love for fans and newbies alike to enjoy.
What makes it amazing is that it's not just another coffee table book with pretty pictures. It has a lot of wonderful images throughout the history of the character, but it's also jam packed with information on Burroughs, Tarzan, and the different mediums you can find him in. It also has several features talking about themes that Burroughs used throughout his different series (John Carter of Mars, Pellucidar, etc.)
As a fan of the character, it was interesting to read the origins of Tarzan, and what prompted him to write the different stories that he created. What sort of languages that Burroughs actually knew and how it inspired his creation of Mangani (the language of the Apes) and other languages. As befitting a book of this caliber, it includes a dictionary of Mangani for those who want to learn what to call certain animals. It also has some wonderful photos of Burroughs, paintings, and other illustrations of the Lord of the Jungle, not to mention drawings of character designs and maps.
I'm also fond of the fact that when Mr. Griffin discusses the novels, he gives you a rundown of the plot, facts, and thoughts on each one while still managing to entice the reader to pick up a copy of the original novels.
This book is very in-depth without being cumbersome. Boasting 320 pages, it's as overflowing with information as it can be without making it feel like a textbook, and yet it's not just an art book either.  It has given me a lot to think about in terms of the movies on the character, and makes me feel like I'm wrapped back into the world of Tarzan all over again. It's a rousing success by Mr. Griffin and Titan Books. It makes me hope that other volumes, similar to this one, come out for more beloved characters such as the Shadow, the Phantom, and Doc Savage for a start.
5 out of 5 stars for this masterpiece. Come celebrate the 100th year of the Ape-Man, I guarantee you will be glad you did!