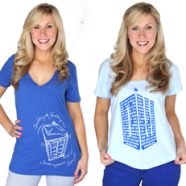 Jun

28
Tags
Related Posts
Share This
Her Universe Branching Out Into The Whoniverse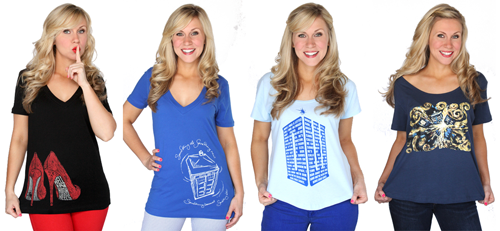 BBC Worldwide have announced a partnership with Her Universe, a leader in female genre fashion.    Her Universe will create a line of Doctor Who apparel for the femal fan base of our favorite Time Lord.
Her Universe Press Release:
Her Universe recognized the burgeoning force of female Doctor Who fans and the need to create unique apparel and merchandise just for them. The international iconic brand and television hit Doctor Who is the longest-running sci-fi series in the world and continues to earn critical acclaim as BBC AMERICA's highest rated series as well as the #1 downloaded series for iTunes in 2011. The new Doctor Who collection by Her Universe will premiere in July with fashion tops featuring images, characters and phrases from the Doctor Who universe all with fashion-forward designs for girls to look "Geek Chic." To recognize their female Doctor Who fans, BBC Worldwide has created a special Doctor Who logo which will only appear on merchandise from the Her Universe collection.

Ashley Eckstein, founder of Her Universe and known to sci-fi fans as the voice of Ahsoka Tano on the hit animated series, Star Wars: The Clone Wars also designed and created the Her Universe merchandise. "Her Universe is a line for the fans," said Eckstein. "Many of our design choices and decisions are influenced by our fans and Doctor Who was the #1 requested license by fangirls for us to pursue next. It was truly a dream come true when BBC Worldwide asked us to do their female merchandise and I am beyond excited to share this extraordinary announcement with our girls today! In the words of the Doctor, I feel like screaming Geronimo!"
Doctor Who apparel and accessories from the Her Universe collection will be available in the U.S. and Canada at both HerUniverseshop.com and BBCAmericashop.com and through national retail outlets such as Hot Topic. Throughout 2012, the Doctor Who merchandise will also be available at select conventions including San Diego Comic Con.
In Other News: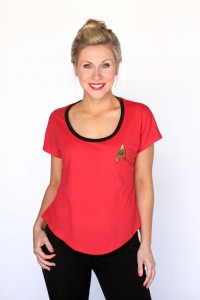 Her Universe is also releasing a line a Star Trek apparel.
Fans will be able to purchase the Her Universe line of Star Trek apparel and accessories through both HerUniverseshop.com and the StarTrek.com Store, as well as at national retail outlets. The products will also be available at select sci-fi and Star Trek conventions, including the aforementioned Comic-Con International 2012, which will be held from July 12-15 in San Diego.