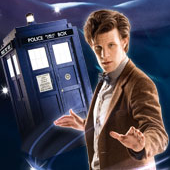 Sep

05
Tags
Related Posts
Share This
CafePress Licensed to Sell Doctor Who Merchandise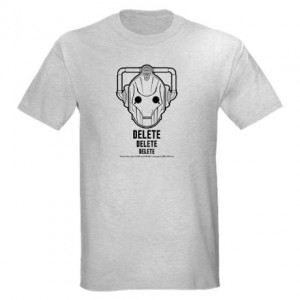 BBC Worldwide Americas have signed a license agreement with CafePress to sell official Doctor Who merchandise.
CafePress Press Release:
Licensing Agreement Enables Fans to Celebrate Highly Anticipated 50th Anniversary of Doctor Who Series With Unique Branded Merchandise

LOUISVILLE, Ky., Sept. 4, 2012 (GLOBE NEWSWIRE) – CafePress Inc. (Nasdaq:PRSS), The World's Customization Engineâ"¢, today announces its new partnership with BBC Worldwide Americas to bring exceptional Doctor Who-branded apparel and gifts to fans in North America via CafePress' e-commerce store. With the 50th Anniversary of Doctor Who approaching in November 2013 as well as the premiere of the new season that premiered September 1st on BBC AMERICA, fan interest in the show has never been higher. Doctor Who recently was on the cover of Entertainment Weekly, making it the first British TV series to earn the cover. This partnership, which will extend through December 2014, will give eager Doctor Who fans a chance to show and share their love for the iconic brand.

As part of this new partnership, CafePress and BBC Worldwide Americas will bring unique Doctor Who items featuring some of the show's most popular characters, images and themes. Products available for purchase will range from "Bow Ties are Cool" (in honor of Matt Smith's portrayal as the Eleventh Doctor) and Cybermen t-shirts to TARDIS hoodies. Through this partnership, new designs will be released regularly to celebrate constantly evolving Doctor Who phenomena as well as milestones for the show. Fans will also have the print-on-demand option, where they can order the size, color, fashion body and graphic to suit their taste.

"Doctor Who fans span several generations and we're genuinely excited to be part of this phenomenon and make this shop available to such loyal and passionate supporters," says Marc Cowlin, Director of Marketing at CafePress. "Whovians can prepare themselves to celebrate the pending 50thAnniversary of the show with truly unique gear."

The international iconic brand and television hit Doctor Who is the longest-running sci-fi series in the world and continues to earn critical acclaim as BBC AMERICA's highest rated series. From award-winning lead writer and executive producer Steven Moffat (Sherlock, The Adventures of Tintin) and starring Matt Smith as the Eleventh Doctor, Doctor Who was the #1 downloaded series on the iTunes store for 2011 in North America and has been featured on NBC's Today Show, CBS's The Late Late Show with Craig Ferguson and G4's Attack of the Show. Matt Smith and the cast came to San Diego Comic-Con 2012 for the second year in a row, filling Hall H with over 6,500 fans for an exciting panel that offered hints to the upcoming seventh season premiere.

For more information, and to shop for Doctor Who merchandise, visit http://shop.cafepress.com/doctorwho
As a Doctor Who fan I'm all for more Doctor Who merchandise, but couldn't BBC Worldwide have just sold the clothing on their own online store, or any other number of online stores that currently carry Doctor Who merchandise like ThinkGeek or Who North America.  I know CafePress offers the print on demand choose your own size and color, but most online clothing sites allow you to choose the size and color of the garments that you purchase.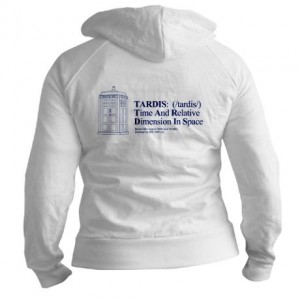 I looked at the CafePress Doctor Who offereings, and there are some nice designs out there.  I was even considering a TARDIS Hoodie, but it's only offered in a Women's Junior Fitted White and only up to XL.  I'm a big Fan Boy, a Men's Adult XL is too small for me, and if I'm going to wear a TARDIS Hoodie it had better be in TARDIS Blue.  Also most of the T-shirts are Women's Fitted T-Shirts.  I know that since Doctor Who came back in 2005 the Female section of our fandom has grown considerably, and I'm all for fitted Women's T-Shirts; but I'd like to be able to wear some of these designs too, and some of them are only available in Women's T-Shirts.  CafePess' color selection ranging from 1 to 5 colors to choose from, generally involving White, Black, Cyan, or Orange leaves much to be desired.
It's early days for the Doctor Who merchandise on CafePress, so maybe they will get their act together and offer some decent sizes and color variations, only time will tell.