IDW Star Trek Preview
The Star Trek 10o page Spectacular goes on sale on November 16th 2011.
as always click on the pics for bigger versions.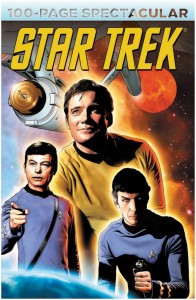 Star Trek 100-Page Spectacular
John Byrne, Scott & David Tipton, Stuart Moore, (w) • John Byrne, David Messina,
Federica Manfredi, Mike Hawthorne (a) • Joe Corroney (c)
A quartet of stories offer an
exciting—and reasonably priced!—introduction to the IDW universe of Star Trek. The first three are stand-alone stories, while the fourth, Spock Reflections, is the first chapter (but one that works well on its own) of a larger series.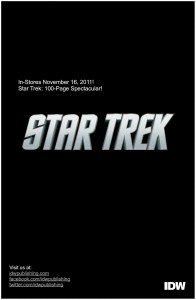 Follow Us on Twitter @SciFiFX
Like us on Facebook: www.facebook.com/scififx