Interview – Kim Newman
With special thanks to our friends at Titan Books, we at SciFiFX were able to interview Kim Newman.  He's the author of the newly-reprinted Jago, the Anno Dracula series, and so many other wonderful works, both fiction and non-fiction.  He's also regular contributor at Empire Magazine.
Troy: Hello, Mr. Newman!  Thank you for taking the time to answer some questions for us. It's truly an honor.  To begin, how did you get started? What inspired you to decide to put pen to paper?
Kim: When I was small, I wanted to be a fireman. After I had an idea how dangerous that actually was, I decided I wanted to be an actor. Somehow, this prompted me to write little plays for me to star in, starting when I was about eleven – the first, naturally, was a one-page version of Dracula. Richard Jeperson and Vanessa, the characters who appear in my collection The Man From the Diogenes Club, first appeared in the sequel to this, which was naturally called Dracula Returns. Gradually, the acting bug receded and I found myself more and more focused on the writing – eventually turning to prose (though I did work in the theatre for a while and went back to it recently). The process of putting pen to paper was a problem for me, since I had (and have) the kind of handwriting that makes teachers and other authority figures wary – I went through a lot of painful tuition to try and improve it, to no effort, and my parents gave in and bought me a typewriter. A teacher lamented to them 'now he'll never learn to write.'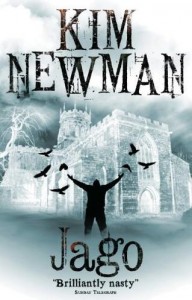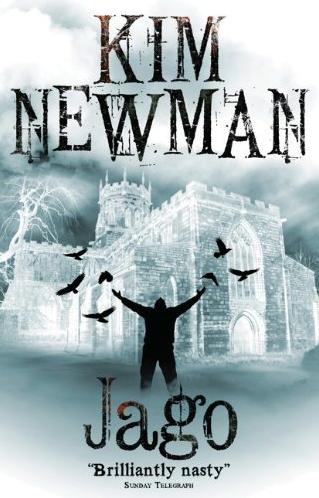 Troy: Your novel Jago is freshly reprinted, for which we're grateful. For those not familiar, how would you describe this story?
Kim: it's a big, apocalyptic, multi-character, community set horror novel. Reality is fracturing in an English village. Various people get sucked in.
Troy: It seems like in the time since it first saw print some 20 years ago, that classic horror like this more or less just fizzled out. How do you think that happened, and do you think Jago can breathe some new life into the genre?
Kim: It is odd that what was once a thriving category, from the mid-70s to the end of the 80s, has dwindled and fragmented so much. This mode of panoramic horror has been out of fashion in literature for a while – though plenty of movies and (especially) TV shows still go that route – and I suspect someone will come along with something big and new and fresh in the field that'll revive the form. I came a little late to it with the first publication of Jago – I remember one of the American reviewers more or less said 'well, this still works' as if he thought the sub-genre might be worn out– since the fashion was already changing when it appeared.
Troy: Where do you see the trends in horror going in the years to come? What trends do you see for some of the other genres you write?
Kim: I try not to think about this sort of thing – though in my other life as a critic it's something I do get asked about. I'd worry about picking a thing to do just because I thought it would be commercial. Looking at the headlines, I imagine we'll see more horror stories with an economic underpinning … an interesting example is Dark Skies, an ordinary X-Files-ish UFO visitation film which makes a point of establishing that the husband and wife of the menaced middle-class family are either out of work or struggling to hold on to a job. I foresee a lot of that in the near future.
Troy: We've heard some buzz about a Jago sequel to be published in the near future that takes a completely different tone and direction. Is there any truth to this?
Kim: Nope. I do think about the surviving characters occasionally, and they may show up in future stories. I did a bit with them in the novella 'Cold Snap', which was rather an indulgent piece that brought together characters from several of my books and stories and series.
Troy: Like so many of us out there, I keep up up with your reviews over at Empire Magazine, which are full of brilliant insights. Being a successful storyteller yourself, do you find it odd to critique the work of others, or is it maybe just a natural extension of being so steeped in lore?
Kim: I started as a critic about the same time I sold my first fiction; I've always done both, with I think equal commitment. Some of my fiction is an extension of my criticism in that I like to take works by other people and play around with them – this is mostly because I have to think about movies and books a lot, the way Arthur C. Clarke thought about rockets and satellites: that meant he had story ideas that came out of his interests, and so do I. I've tried to work on the prose of my non-fiction as I do my fiction – and my book Nightmare Movies has something of a narrative besides just film history and analysis and context. As a critic who writes fiction, I'm well aware that I have to take my lumps when others write about me – though,on the whole, I feel I've been kindly treated by reviewers. I'm sure an internet search would change my mind, though.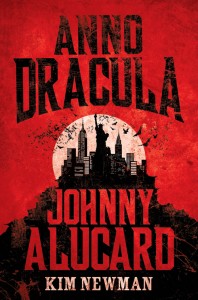 Troy: I first discovered your work through Anno Dracula, and as a big fan of the Wold Newton concept, I felt like I was in Victorian literary heaven reading this book. I don't think I've ever seen anything that was plugged into history and all manner of pop culture quite like that before or since. You clearly had as much fun writing it as is humanly possible. To pull it off once is a feat unto itself. But lightning has struck three times here, and you've got the fourth in the series – Johnny Alucard – coming out later this year. Can you tell us a something about this new book and perhaps walk us through the process of how you Frankenstein something like this together?
Kim: The fourth novel takes place mostly in the 1970s and '80s, mostly in America (with a bit of Romania and London), and deals with the way Dracula manifests in popular culture. There are sections about Andy Warhol, Francis Coppola and Orson Welles, and elements of various types of American crime fiction, including Raymond Chandler's novels, Quentin Tarantino's films and the TV series The Rockford Files and Homicide Life on the Street. The Anno Dracula novels (and the novellas I've added to the reissues) are different from each other in setting and style, though there are throughlines of characters or dynasties of characters. One good thing about writing about people who live for centuries is that they can keep turning up while everything around them changes. I tend to start with something simple, usually a match of one of my continuing characters with a setting or genre or historical moment – a 1920s country house murder mystery or swinging London in 1968 or New York in the disco/punk era – then ponder which borrowed fictional or historical characters would fit the plot roles I need filled, then scramble things up through the crazy mirror of the Anno Dracula alternate reality (usually, by asking how would society adjust to accommodate vampires).
Troy: We've been teased mercilessly about an Anno Dracula feature film for a while now, and I know that has to be beyond frustrating for you to see it get so close to fruition. Is there any further movement on this front? Or perhaps is there any interest in adapting some of your other works? I know I'd like to see a movie from The Hound of the D'Urbervilles or Dr. Shade.
Kim: I've recently done a rights deal with a British film/TV company who are actively developing the project but it's early days yet.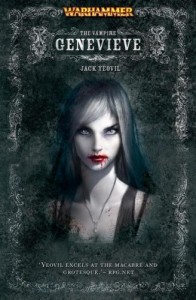 Troy: After working through the Anno Dracula novels, I only recently discovered Geneviève Dieudonné had other incarnations through your Warhammer stories and your Diogenes Club series, and I had to devour those as well. She's quickly become one of my favorite characters, and to see these different versions is really fascinating. Do you have any further story plans involving her or perhaps some of your other trans-story characters like Charles Beauregard, Dr. Shade, Edwin Winthrop, or Catriona Kaye? I'm assuming, for example, we'll see more of Geneviève in Johnny Alucard?
Kim: Geneviève is certainly in Johnny Alucard, where she has a spell working as a private detective in Los Angeles in the 1970s and as a Medical Examiner in Baltimore circa 1989. I'm not finished with any of these people – Catriona will be in my forthcoming novel Kentish Glory, for instance.
Troy: Which is your favorite book (or books) of all time, not written by you?
Kim: Hard to pick just one. I'm very fond of George and Weedon Grossmith's The Diary of a Nobody.
Troy: Which authors influenced you the most? And given how much classic screen lore you're steeped in, which movies fit that bill?
Kim: Authors (at random) – Raymond Chandler, Bram Stoker, Arthur Conan Doyle, Robert Louis Stevenson, Cornell Woolrich, Fredric Brown, Stanley Ellin, Richard Condon, Robert Bloch, Philip José Farmer, Richard Matheson, Ramsey Campbell; movies – again too many to list, but everyone from Hitchcock to Mike Leigh seeps into my work.
Troy: Of your own work, which are you most proud of?
Kim: Life's Lottery. It was an attempt at doing something experimental yet accessible.
Troy: For newcomers who have just discovered you, which stories would you suggest new readers begin?
Kim: Anno Dracula is a good entry book to my fictional multiverse.
Troy: Since we can't get enough of your work, are there any other teasers you'd like to offer about upcoming projects you're working on? Or perhaps are there other classic works up for reprint in the near future? Or given that the 50th anniversary of Doctor Who is upon us, do you have more stories in the works for our favorite Time Lord?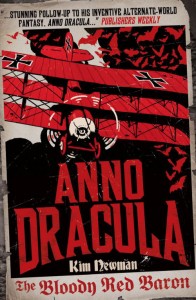 Kim: I'm commissioned to do four more novels for Titan – An English Ghost Story,which is exactly what it sounds like; Kentish Glory, a1920s-set girls school/pulp superheroine story; Angels of Music, a riff on The Phantom of the Opera and Charlie's Angels; and an as-yet untitled fifth Anno Dracula novel. They're also reissuing my backlist novels, in editions with added material. No one's asked me to write Doctor Who, though I was happy to add one small thing (the novella Time and Relative) to the canon. I'm also working on some comics and other media projects.
Troy: For new fans looking to learn more about you and your works, what are the best ways to find you?
Kim: my website, which is hosted at johnnyalucard.com.
Troy: Again, thank you so much. We know you're busy beyond belief, but we appreciate your time and hope you'll be willing to touch base with us again down the road.