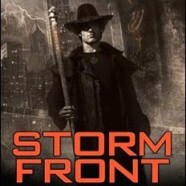 Jan

07
Tags
Related Posts
Share This
Podcast #91 – The Dresden Files: Storm Front
Podcast: Play in new window | Download
Subscribe: iTunes | Android | RSS
This week is our first SciFiFX Book Club podcast.  Last month we all read book 1 of The Dresden Files: Storm Front.  Listen in to find out what we liked and or disliked about the Jim Butcher's first Dresden book.  Also at the end of this podcast we allow our randomizer to choose our book for this month.
Storm Front Cover Blurb:
Harry Dresden is the best at what he does. Well, technically, he's the only at what he does. So when the Chicago P.D. has a case that transcends mortal creativity or capability, they come to him for answers. For the "everyday" world is actually full of strange and magical things — and most of them don't play well with humans. That's where Harry comes in. Takes a wizard to catch a — well, whatever.

There's just one problem. Business, to put it mildly, stinks. So when the police bring him in to consult on a grisly double murder committed with black magic, Harry's seeing dollar signs. But where there's black magic, there's a black mage behind it. And now that mage knows Harry's name. And that's when things start to get… interesting.

Magic. It can get a guy killed.
For those of you  that have read The Dresden Files: Storm Front.  We would love to hear you opinions on it.  either reply to the post here, e-mail us at podcast@scififx.com, or leave use a voice mail at 313-437-2434.