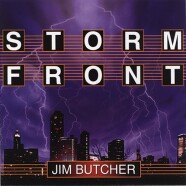 Dec

09
Tags
Related Posts
Share This
SciFiFX Book Club
We announced on our last podcast that we have decided to start a monthly book club.  On the first podcast of the month we will randomly choose a book from out database.  The next month we will discuss that book. The selection this month is book 1 of The Dresden Files: Storm Front by Jim Butcher.
Cover Blurb:
Harry Dresden is the best at what he does. Well, technically, he's the only at what he does. So when the Chicago P.D. has a case that transcends mortal creativity or capability, they come to him for answers. For the "everyday" world is actually full of strange and magical things — and most of them don't play well with humans. That's where Harry comes in. Takes a wizard to catch a — well, whatever.

There's just one problem. Business, to put it mildly, stinks. So when the police bring him in to consult on a grisly double murder committed with black magic, Harry's seeing dollar signs. But where there's black magic, there's a black mage behind it. And now that mage knows Harry's name. And that's when things start to get… interesting.

Magic. It can get a guy killed.
Storm Front is available in all the major formats.  It can be purchased from Amazon, or you can listen to the unabridged audio book, performed by James Marsters on CD or Audible.com.  In fact if you want to listen to the audio book version and you are not an audible member already you can click here and sign up for a free 1 month trial and receive one free audio book.  On to the reading or listening and I hope you all tune in to listen to our podcast discussion of The Dresden Files: Storm Front.  Also if you have an opinion on the book please leave us feedback, send an e-mail to bookclub@scififx.com, or leave us a voicemail at (313)437-2434, and we may include it in the podcast.