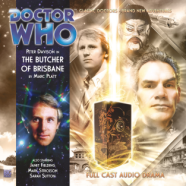 Jul

14
Tags
Related Posts
Share This
Review: Doctor Who: The Butcher of Brisbane
It's no secret that I am a long time fan of Big Finish's Doctor Who full cast audio plays.  But the 161st installment of their monthly Doctor Who Range is a real treat.
Before we get into that, a little background on Big Finish.  They are officially licensed by the BBC to produce Doctor Who audio plays and books.  They are restricted to Classic Series Doctors, companions, and monsters, but can create new companions  They are not allowed to use Doctors or other characters from the 2005 onward series… yet.

Big Finish Started with their Bernice Summerfield range of audios in September of 1998.  Professor Bernice Summerfield was originally created by Paul Cornell for the Doctor Who New Adventures novels.  Bernice is a 26th century archeologist that travelled with the 7th Doctor for a time in the novels.  The BBC were so impressed with the Bernice audio plays that they were willing to license Big Finish to create Doctor Who audios and books.
Big Finish started with the Doctor Who Monthly range back in July of 1999.

With original cast members returning to their rolls, they started off with Doctors 5, 6, and 7, with Doctor 8 joining in January 2001.  The 4th Doctor has recently joined the Big Finish roster.  In addition the main monthly range of full cast audio plays Big Finish also offers a range of Doctor Who Spinoff series of either full cast audio plays or enhanced audio books such as: The 8th Doctor Adventures, UNIT, I Davros, Doctor Who Excelis, Jago & Litefoot, Bernice Summerfield, Doctor Who Stageplays, Iris Wildthyme, Doctor Who Lost Stories, Dalek Empire, Doctor Who Unbound, Counter Measures, Doctor Who Companion Chronicles, Sarah Jane Smith, Doctor Who 4th Doctor Adventures, Graceless, Gallifrey, Doctor Who Short Trips, and Cyberman.  Whew, that's a lot of audio!  Let's just say that Big Finish puts out enough high quality Doctor Who goodness to satiate any Doctor Who fan's needs during the drought between seasons, no matter when Moffat and the BBC decide to air them.

The Butcher of Brisbane is a rare half breed story.  I refer to it as a PreSequel; you see it's all a matter of perspective.  The Butcher of Brisbane (or TBOB as I shall refer to it) is based off of the (1977) 4th Doctor story The Talons of Weng-Chiang.  In that story the 4th Doctor, while visiting 19th century Earth, encounters a war criminal from the 51st century who traveled back in time to escape being captured.  This time traveling war criminal is named Magnus Greel, the infamous Butcher of Brisbane.  The 4th Doctor puts an end to Greel and his evil machinations.
***Spoiler Alert – Minor Plot Spoilers After the Jump***
Well, TBOB takes place in the 51st century and leads up to Greel escaping in time to the 19th century, thus making it a prequel to The Talons of Weng-Chiang.  But here's the Wibbly Wobbly Timey Wimey part (Big Finish has been doing this much longer and dare I say much better than Steven Moffat), TBOB is a 5th Doctor story.  This puts it squarely as a Sequel to the Talons of Weng-Chaing, as it takes place later in the Doctor's personal time line.  This is one of the things I love about Doctor Who, you can have one story that is both a Prequel and a Sequel to another story.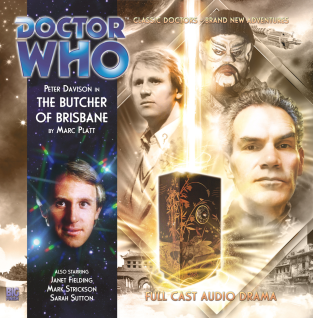 The 51st century is painted in great detail by writer Marc Platt as a world running out of resources, entering a new Ice Age, and on the brink of World War 6.  Greel employs a scientist by the name of Findecker, who has promised him the secrets of time travel, but needs raw materials (Peopls) to conduct his brutal experiments in time travel and also to sustain his own life.  You see, Findecker's time travel technology is based on Zygma Energy, which is highly unstable and disrupts the DNA of anyone that uses his Time Cabinet.  This Forces the Time Traveler to distil the life essence of others in order to keep their own DNA from breaking down completely.
Greel, as the Minister of Justice for the Supreme Alliance, uses his position to convict thousands, sentencing them to the death penalty.  This allows the convicts to be used for Findecker's experiments, and sustenance.  The 5th Doctor, Nyssa, Teagan, and Turlough are caught up in the events leading up to World War 6.  The Doctor, knowing how this has to play out, can do nothing but try to keep his companions alive.  To make matters worse, the 5th Doctor has to make sure that Greel eventually escapes back to the 19th century, where after being affected by the Zygma Energy, Greel will continue a series of brutal murders just to maintain his life, until several years later when the 4th Doctor will put an end to Greel and his plans to return to the 51st century and gain power once again.
This story was very intricate, with a level of gruesome detail that adds to the tension and feeling of impending doom.
The Talons of Weng-Chiang is one of my, as well as MANY other Doctor Who fan's, favorite stories.  My congratulations go out to Big Finish, the Cast, and Crew.  The Butcher of Brisbane is a worthy PreSequel to The Talons of Weng-Chiang.
Here is a trailer for Doctor Who: The Butcher of Brisbane