Little Shop of Horrors' Lost Ending is Restored
Warner Brothers recently announced that they are planning a remake of the 1986 Little Shop of Horrors, which itslef was an adaptation of a stage play, which was an adaptation the original 1960 movie.  Now that thats clear.  After obligatory fan outcry at yet another remake of a classic, a new announcement has come to light.
The 1986 Movie is being released on Blu-ray.  The re-release will contain the original Theatrical cut, and the Director's cut.  No big deal you say, that's pretty standard stuff for a re-release.  Except that the Director's Cut has the newly restored lost original ending, that depicts Audrey II's Godzilla-esque rampage and world takover.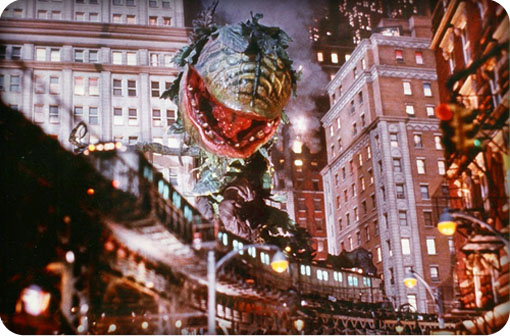 Little Shop of Horrors: The Director's Cut Blu-ray will be released on October 9th.