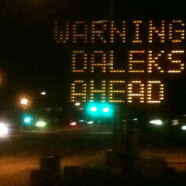 May

25
Tags
Related Posts
Share This
Warning Daleks Ahead
"Warning Daleks Ahead",  is what an electronic construction sign along Arapahoe Road in Boulder Colorado read from Tuesday, May 22nd until mid-day Wednesday.
City of Boulder officials said Wednesday that the sign is maintained by the Colorado Department of Transportation.
CDOT spokeswoman Ashley Mohr:
"It was locked, so we're not quite sure how folks were able to break into it," she said. "But we're looking into it."
A similar incident occurred last year when a sign was changed to read "ZOMBIES AHEAD", but that time CDOT workers had accidentally left the message-entry box unlocked.
I don't know about you, but if a sign warned me about Daleks ahead, I would probably turn around and find an alternate route.