CW Shifts Supernatural Again!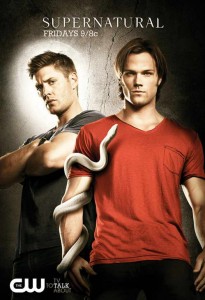 Supernatural is shifting time slots again!
If you've been a long time fan of the show, then you know that it started out Thursdays in the 8/9pm time slot for the first five seasons. Then starting with season six, they shifted it to Fridays at 8/9pm. Now, much like when it started, Supernatural is going to be on Wednesday nights at the 8/9 o'clock slot preceded by the new DC hero show Arrow. I can't speak for Arrow yet, as I've not seen it, but I can speak for this time shift of Supernatural.
The premise of the show, for those who don't know,  is that Dean Winchester and his brother Sam have been raised as Hunters. A Hunter is an individual who knows what lurks in the darkness and actively hunts it, usually having been initiated into this life through personal tragedy involving it. Through seven seasons they've fought numerous creatures out of lore such as vampires, werewolves, wendigo, shapeshifters, demons and much, much more. With the help of supporting cast, these two have survived things that would drive the most well-adjusted insane. Every season builds upon a rich mythos that few shows can ever truly reach.
I never wanted to start watching this show as it had a CW label on it. I figured it was the next in a long line of teen drama that I wasn't looking forward to. Much like the story with Game of Thrones, I was finally persuaded to sit down and watch the pilot. From there, I caught up to the live airings quickly and never looked back. I have to say that the show hung on remarkably well considering its competition was CSI, Grey's Anatomy and the Thursday night NBC line up. Not really remember what all was on NBC at the time, but this was my go to. Matter of fact, I've introduced several people to the show who followed suit in skipping stuff to watch Sam and Dean Winchester kill the Monster-of-the-Week or deal with one of the plot threads that ran so well through the show.
When they moved it to Friday, I followed eagerly with it. It did go into the dreaded Death Slot, but since they dealt with the dead so often, I wasn't concerned. This was another bump in the road, but the Winchesters could endure because of the strong storylines that their creative team kept producing. Even in season seven, where I haven't enjoyed everything they've done, I've still come back for more because it's still entertaining. The back half of this season has truly picked up that feel of the show again. It makes me hopeful for the finale and what they will throw at us fans next season.
Initially, when I started to write this article, I was a little concerned for the show. In a way I'm still a bit concerned. I'd follow this show no matter where it landed, because it's just that good! However, the time slot they've placed it in puts it up against stiff competition for the first time in two seasons. It goes up against veteran shows like Criminal Minds on CBS, Modern Family on ABC, and Law & Order: SVU on NBC. I've never watched Modern Family, but I know it performs rather well. Criminal Minds and SVU have always been popular, and have always killed in the ratings. Supernatural stands to be one of the most popular shows on the CW, although I can still find a ton of people who ask what it is when I bring it up. In a way, putting it behind Arrow might not be such a bad thing. For the bulk of the show, it followed Smallville until it ended its run after ten seasons. Having the superhero show lead-in, could be good. However, Arrow still has yet to prove itself as a series. This can also be a bad thing, where as Nikita has been going for a little while and it fairly well-received. At least, as it comes up to its third season, it seems to be. This gives it a comfort zone to follow. However, the line up change now has Nikita following America's Next Top Model. I'm not sure who thought that was a good idea, but from what I'm to understand the ANTM has been slipping in ratings. Not really much to say on that except that I'm not sure why these shows are popular to begin with. Yes, this one is filled with beautiful women. In the end though it's nothing but another reality series with a bunch of catty individuals who want the top prize. Yawn….
I'm not sure why the CW truly did this. If anything I would have preferred for Supernatural to return to its roots as the Thursday 8/9pm show. This is far from the first time a network such as CW has made such mistakes.  My hope is that they haven't made another one.
To check out the Fall Preview schedule here's a link to TV Guide to find out where your favorite shows will be!