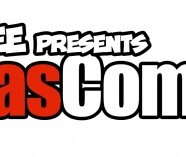 Apr

16
Tags
Related Posts
Share This
Dallas Comic Con

SciFiFX is proud to announce that we will be attending the Dallas Comic Con as part of the media circuit!
This is an especially exciting announcement for me, as I'm a regular attendee of these conventions going as far back as 2002. (10 years… wow!!!) I've got so many memories of going to this place and meeting some of the most wonderful actors, actresses, artists, and other uber-cool fans. If ever I wondered how far up the fandom ladder I went, I always felt knock down a rung because of the awesome stuff you'll see. I, of course, give a shout out to the 501st Legion for their presence. One of the best groups of people I've ever met. Always out to help, despite affiliations with the Empire (much love to you all!), the different Starfleet ships that tend to wander about. As you know, I'm a huge fan of Trek, Wars and 'gate. Seeing the representation of these wandering around makes the fan and the kid in me smile! Just in case you didn't want to associate yourself with any of these franchises, there are a variety of other shows! Of course, we have a few that dress up just because they love to dress up! You know who you guys are!
The event itself usually gets covered with all sorts of celebrities. Last convention alone, we had the good chunk of the Firefly crew in town. Adam Baldwin, Jewel Staite, Sean Maher, and Ron Glass. They weren't the only ones there, but I remember seeing so many people standing in line to say hi and shake hands with stars of their favorite show. It's a nervous experience for me everytime I do it, but that's okay. I always love the feeling of being with my people and introducing newcomers to that sensation of awesomeness. Old and new, young and young-at-heart are great to see smiling as they talk about their con experiences.
This convention boasts a heavy list of sci-fi and, of course, artists in attendance. Some names are brand new to our ever growing event, and some are welcomed faces returning to give another fan a chance to meet them. They are so numerous in name for both tv, movie, and comic that I won't try to list them all. It's just a lot. In lieu of that, I'll just you the link to check it out yourself.
http://www.scifiexpo.com/DCC/Home.html
You can also follow them of Facebook to keep up with news about the upcoming convention and other news about some of the attending guest!
I know that our friends over at the Fellowship of the Geeks will be there!  As always it will be great to see them!  And I know, much like ourselves, they would all love to have you say hi!      Can't wait to see you all there!