Mark Hamill Hangs up his Smilex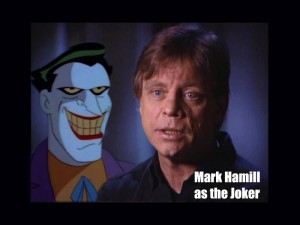 Mark Hamill, the voice of the animated Joker for almost 20 years, announced this morning via Twitter that he was retiring as the voice of Batman's arch nemesis.
"Hello/Goodbye Joker! I've enjoyed every minute behind the wheel of the Crown Prince's crazy car – I'm going to miss him more than I can say!!"
Hamill last voiced the Joker in the newly released video game Batman Arkham City. 
Hamill began his career as the Crown Prince in 1992 with Batman: The Animated Series.  He then voiced the Joker in The New Batman Adventures, Superman: The Animated Series, Justice League, and Static Shock.  He also voice the Joker in the animated movies Batman: Mask of the Phantasm and Batman Beyond: Return of the Joker.
Hamill will next appear in a guest role on Chuck playing a villan.  Hamill's appearance will be in Chuck's season premiere this coming Friday, October 28th on NBC.


Follow Us on Twitter @SciFiFX
Like us on Facebook: www.facebook.com/scififx