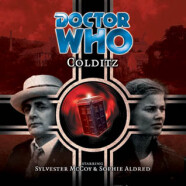 Mar

02
Tags
Related Posts
Share This
Review – Big Finish Doctor Who #25: "Colditz"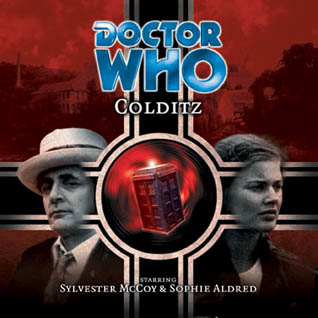 This is the next in line of my Big Finish Productions Doctor Who retro-reviews.
#25 – "Colditz"
From Big Finish's site:
October 1944: As World War II draws towards its conclusion, a Nazi defeat begins to seem almost inevitable. But that might be about to change…
Two intruders are captured in the grounds of Colditz Castle, the most secure POW camp in Germany. At first, the guards think they're dealing with British spies. But the strangers arrived in an advanced travelling machine, the like of which they've never seen before.
With this TARDIS in their hands, the Third Reich might triumph after all.
Written By: Steve Lyons
Directed By: Gary Russell
Cast
Sylvester McCoy (The Doctor); Sophie Aldred (Ace); Tracey Childs (Klein); David Tennant (Feldwebel Kurtz); Toby Longworth (Hauptmann Julius Schäfer); Nicholas Young (Flying Officer Bill Gower); Peter Rae (Timothy Wilkins); Neil Corry (Prisoner / Guard)
***minor spoilers ahead***
Look carefully at the cast list, and you'll see a name that should be familiar to Doctor Who fans: David Tennant.  Before the series was reimagined for modern television audiences, Tennant was living his dream as part of the Whoniverse via audio.  Rumors abound that in his work for Big Finish, this is actually how he became cast for the role of the Doctor, even before Christopher Eccleston was considered.  Let's face it: when the Doctor is involved, you learn very quickly that some things are just destined to be fixed points in time and space.  He might be a bit difficult to spot if you don't know to listen for him, but once your ear is attuned, that German accent can't hide his now-familiar talent.
 Also of note is the character of Klein, performed by Tracey Childs.  If you're listening to these audios in series as I am, you'll want to remember this one.  She'll be a recurring villain as well as a fellow traveller in the TARDIS later on.  Do I have your attention yet?  She's a cut above the rest, but I won't spoil why.  That's part of the fun.  Suffice to say, she's a memorable foil for the Doctor.
As to the story itself, this is one of those great historical serials that I love so much about Doctor Who.  What's interesting is the story opens with neither the Doctor nor Ace knowing where they are, which boosts Ace's confidence that she's not part of some Machiavellian master plan that the 7th Doctor is infamous for cooking up.  That they materialized in the courtyard of Colditz Castle… well, Nazis make excellent villains, and a seemingly inescapable fortress like Colditz gives the Doctor an opportunity to crawl inside their self-superior eogs and play around a bit.  It's sort of like Rorschach from Watchmen; is the Doctor trapped with the Nazis, or are the Nazis trapped with the Doctor?  Any incarnation of the Doctor would be interesting to unleash in this setup, but there's something particularly menacing about the 7th that makes it that much more fun.  Each Doctor has his trademark, after all, and the 7th is all about grand, final, and often vindictive master plans.  Even while being tortured, he's clearly in control.
Or is he?  Enter Klein, who already knows about the key to the TARDIS, doesn't seem at all concerned about the war effort, and is prepared to use Ace as a bargaining chip to gain the Doctor's cooperation.  So the questions become obvious, but the answers aren't quite what you might think.  Meanwhile, Ace is making friends and influencing people amongst the other prisoners, learning that the reality of Colditz is far different than the board games and other pop culture versions she knows.  Her mission: to escape Colditz Castle so that the Doctor is free to deal with Kline without herself as a handicap.  This particular story is huge step in Ace's character development, and fans of Ace might be surprised where it ends.
I consider this one to be one of those episodes that just keeps getting better on repeat listenings.  But don't take my word for it.  Give it a try, then come back here and tell me what you think.