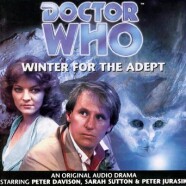 Nov

10
Tags
Related Posts
Share This
Review – Big Finish Doctor Who #10: "Winter For The Adept"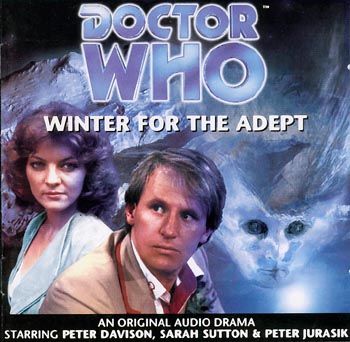 This is the next in line of my Big Finish Productions Doctor Who retro-reviews.
#10 – "Winter For The Adept"
From Big Finish's site:
When a teleportation accident goes badly wrong, Nyssa finds herself stranded on the freezing slopes of the Swiss Alps in 1963. But is it mere coincidence that she finds shelter in a snowbound school haunted by a malevolent poltergeist?
When the Doctor arrives, Nyssa and the other inhabitants of the school soon discover that the ghost is merely part of a darker, deeper and more deadly game involving rogue psi talents and something else… something not of this Earth.
Written By: Andrew Cartmel
Directed By: Gary Russell
Cast
Peter Davison (The Doctor); Sarah Sutton (Nyssa); Peter Jurasik (Lt Peter Sandoz); Liz Sutherland (Alison Speers); Sally Faulkner (Miss Tremayne); Hannah Dickinson (Mlle Maupasant); India Fisher (Peril Bellamy); Chris Webber (Harding Wellman); Andy Coleman (Commodore); Nicky Goldie (Empress)
***minor spoilers ahead***
A running gag is starting to develop: does Nyssa see dead things?  After her appearance in "The Land of the Dead," it's ironic that she should be teleported (quite literally) into a mystery involving a ghost.  Remember last week when I said even the supernatural has logical explanations in Doctor Who?  Yeah… not so much in this episode, though don't think the 5th Doctor didn't give it the old college try.  He's on the hunt for Spillagers, you see, and when he's confronted with a haunted girls' school high in the Swiss Alps, he just can't help himself to figuring out what causes it.  And to his credit, the explanation (which I won't spoil here) is a convoluted daisy chain that only the Doctor would be able to figure out quite so quickly.  It's actually a pretty interesting setup, and it's one that seems so very simple once it's fully explained.  It just doesn't explain the ghost.  There's sort of an explanation there given in passing in the first half of the story, but not one that's hammered home as effectively as the rest of the mystery.
Of particular note in this story are a couple of castmembers.  Babylon 5 fans will recognize Peter Jurasik, who played Ambassador Londo Mollari.  I couldn't supress a grin every time his character here got annoyed, because that's when his accent took on the heavier Londo sound.  Also featuring in this audio is actress India Fisher.  While playing a completely different character here, she will shortly become an important part of the Big Finish family.  When Paul McGann makes his audio debut as the 8th Doctor in "Storm Warning," Fisher will be reintroduced beside him as fan favorite Charlotte "Charley" Pollard, self-styled Edwardian adventuress.  For those of you who don't know her character, let's just say that she was Rose Tyler before there was a Rose Tyler – and in my humble opinion, she's better.  Strong words, I know.  Now hopefully I've given you something to look forward to.  I didn't give a link for Charley because I'm hoping you'll be willing to give her adventures with the Doctor a chance, spoiler free.  We'll be introducing her here soon enough.
Also of note here is the writer: Doctor Who alumni Andrew Cartmel, as in "the Cartmel Masterplan."  I won't go into details here, but if you listen to our podcast, I believe it's his ideas that showrunner Steven Moffat is cribbing and making his own on the current incarnation of the television series.  Regardless of that, Cartmel is known for bringing a touch of the gothic to Doctor Who during the original run of Sylvester McCoy, and it's that touch that lends itself to this story so well.
It's not often we get to see Nyssa perturbed at the Doctor, though admittedly she does have good reason as the story opens.  Not much foreknowledge is needed about the Doctor Who mythos to jump right in, making it friendly for old fans and newcomers alike.  All in all, this one is a fun little character piece, told with the standard Big Finish stamp of excellent storytelling… if you don't think too hard about that ghost.