Chiller's Real Fear: The Truth Behind the Movies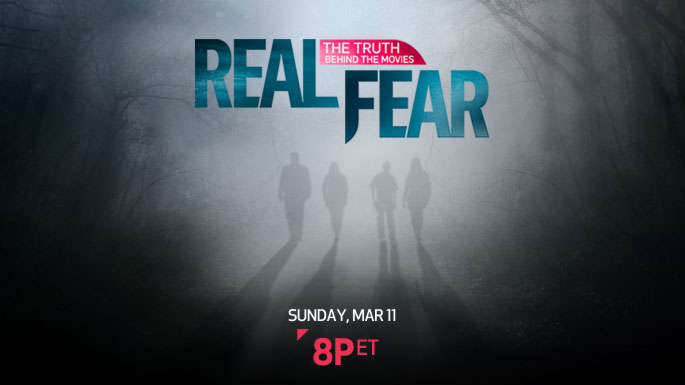 I know its late, but I've been really busy, and Real Fear reruns on March 22nd and 25th, so this is a good a time as any, so without further adieu, here is my pre-review of it.
Real Fear examines the differences between the story Hollywood shows us, and the real story that the movies are based on.
The Real Fear team travel across the county to interview people who were involved with the real events, like the Amityville Horror.  They find out what was left out of the movies, what was downplayed, what was upplayed, and what was a complete fabrication.
Official Chiller Press Release:
In Real Fear: The Truth Behind the Movies, Chiller investigates the terrifying factual stories that inspired some of the scariest horror movies of all time, including Silent Hill, The Amityville Horror, The Mothman Prophecies and Poltergeist, through exclusive eyewitness interviews and reenactments of actual events. Paranormal investigator Katrina Weidman (Paranormal State) travels with three of her friends into the dark recesses of the unknown to uncover the buried secrets behind these four iconic films.

Journey down the haunted high-ways of the American East Coast on a road trip to discover the origins of our most beloved horror films. From a grisly series of murders in the small town Amityville to a devastating, subterranean fire in the rural town of Centralia…From the eye-witness reports of the inexplicable, red-eyed creature known as Mothman to the documented paranormal activity that inspired Poltergeist…The movies may be fiction, but the fear is very, very real…
Real fear is an interesting idea for a show, especially if you're a movie buff, or just rally into horror movies.  I'm not too sure of the choice to use one of the gang from Paranomal State, but Katrina Weidman does an acceptable job.  The paranormal investigations are really just a side note, the real reason to watch Real Fear is to hear the real stories that inspired your favorite horror movies.  It's listed on Chiller's website as a special, so I hope they try to make it a recurring special as they can track down more of the original stories.
Follow Us on Twitter @SciFiFX
Like us on Facebook: www.facebook.com/scififx