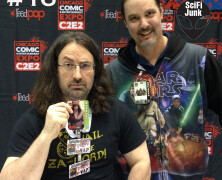 Jul

05
posted by SciFiJunkie
http://media.blubrry.com/scififx/p/media.blubrry.com/scifijunk/p/scifijunk.com/podcast/scifijunk-016-geek-stuff.mp3Podcast: Play in new window | DownloadSubscribe: iTunes | Android | RSS<a href="http://scifijunk.com/wp-content/uploads/2015/06/jim-scifijunk-16.jpg"><img...
posted by SciFiJunkie
Conventions are part of an everyday lifestyle of your average geek. I'm certainly no exception to this rule. Most of us enjoy going to the convention several times a year, but we have a tendency to enjoy different parts and different aspects of conventions. Now with so many...